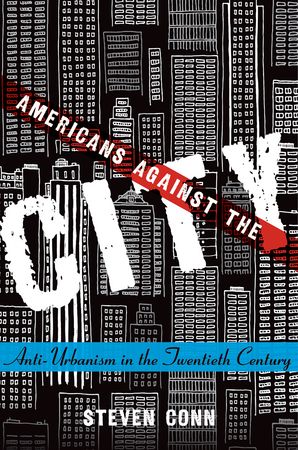 "It is a paradox of American life that we are a highly urbanized nation filled with people deeply ambivalent about urban life. In this provocative and sweeping book, historian
Steven Conn
explores the "anti-urban impulse" across the 20th century and examines how those ideas have shaped the places Americans have lived and worked, and how they have shaped the anti-government politics so strong today.
As Conn describes it, the anti-urban impulse has had two parts: first, an aversion to urban density and all that it contributes to urban life, especially social diversity, and second, a perception that the city was the place where "big government" first took root in America. 
In response, in varying ways across the 20th century, anti-urbanists called for the decentralization of the city, both its population and its economy, and they rejected the role of government in American life in favor of a return to the pioneer virtues of independence and self-sufficiency. In this way, by the middle of the 20th century anti-urbanism was at the center of the politics of the New Right.
Conn starts in the booming industrial cities of the Progressive era at the turn of the 20th century, where these questions first began to be debated, and concludes with some of the New Urbanist experiments of the turn of the 21st. Along the way he examines the decentralist movement of the 1930s, the attempt to revive the American small town in the mid-century, the anti-urban basis of urban renewal in the 1950s and '60s, and the Nixon Administration's program of building new towns as a response to the urban crisis.
Engagingly written, thoroughly researched and forcefully argued, Americans Against the City is important reading for anyone who cares not just about the history of our cities, but about their future as well." [Book description from the
publisher's website
]