Humans weren't around when volcanoes formed Iceland's unique island landscapes some 20 million years ago. But in the 1,100 years that Iceland has seen settlement, the story of its volcanoes has been interwoven with human history. Although the data are incomplete, over 170 volcanic eruptions have been recorded in Iceland since the 10th century. Roughly 50 have occurred within the last 100 years.
 Glacier flowing down Iceland's southern coast; Volcanic landscape.
Recently, the Bárðarbunga volcano erupted in August of 2014. And when locals try to predict which volcano will go next, they focus on the Angry Sisters, Hekla and Katla, which erupted a century ago and are due—if volcanoes are creatures of habit—to erupt again soon. Katla sits underneath the Mýrdalsjökull glacier in the south and will trigger massive flooding when it resumes activity.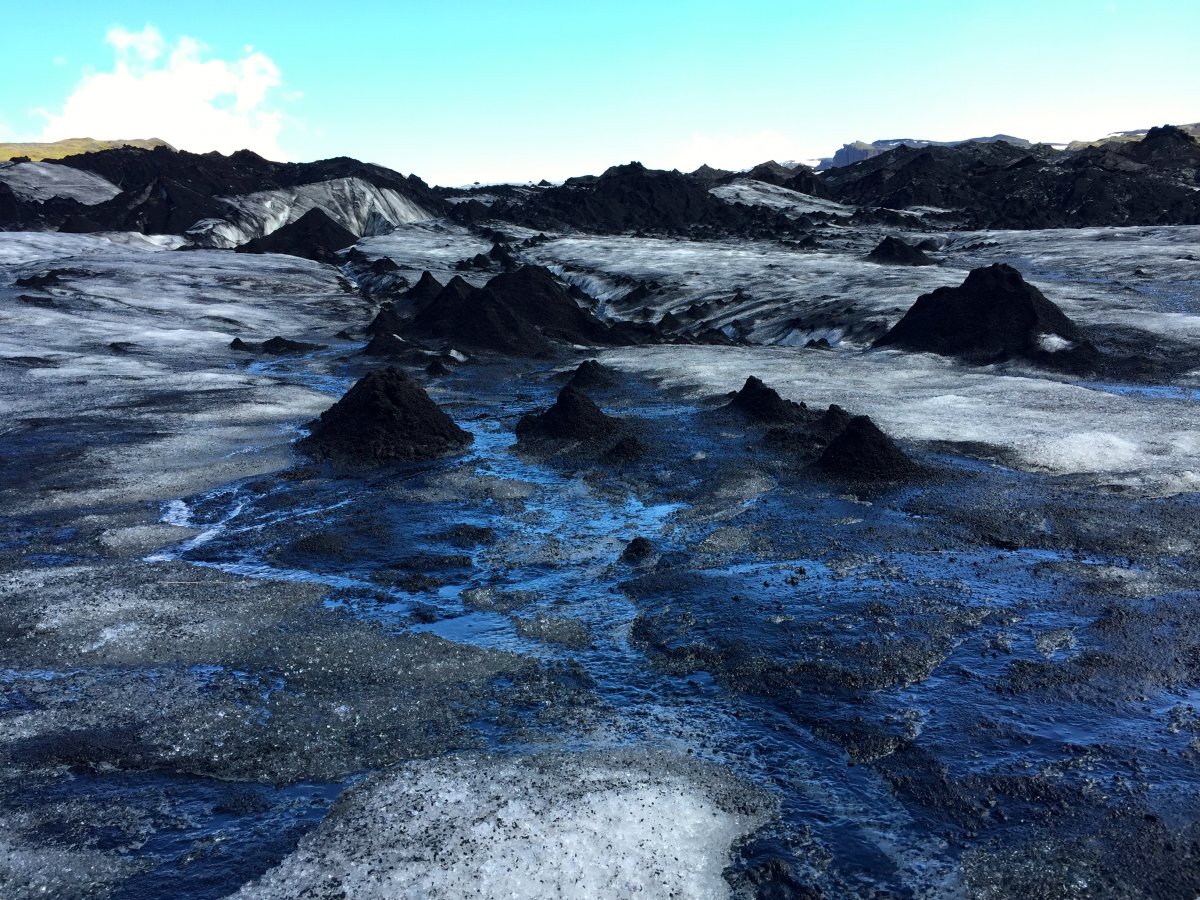 Glacial melt from Myrdalsjökull glacier in the south (jökull means glacier in Icelandic). Note the alluvial cones formed by volcanic ash and sediment.
Luckily, no recent event has been as devastating as the 1783 eruption of the Laki volcanic fissure, a system of craters near present-day Vatnajökull National Park. That eruption lasted ten months, led to the death of over half of the island's livestock, and caused almost a quarter of Iceland's population to perish.
You didn't have to live in Iceland to feel the might of Lakagígar (the Craters of Laki). Environmental historians have begun to understand how the eighteenth-century Laki eruption affected the Indian Monsoon Current and contributed to food instability as far as Ottoman Egypt, causing between 2-6 million deaths worldwide. Descriptions of the eruption's effects appear even in Benjamin Franklin's diary.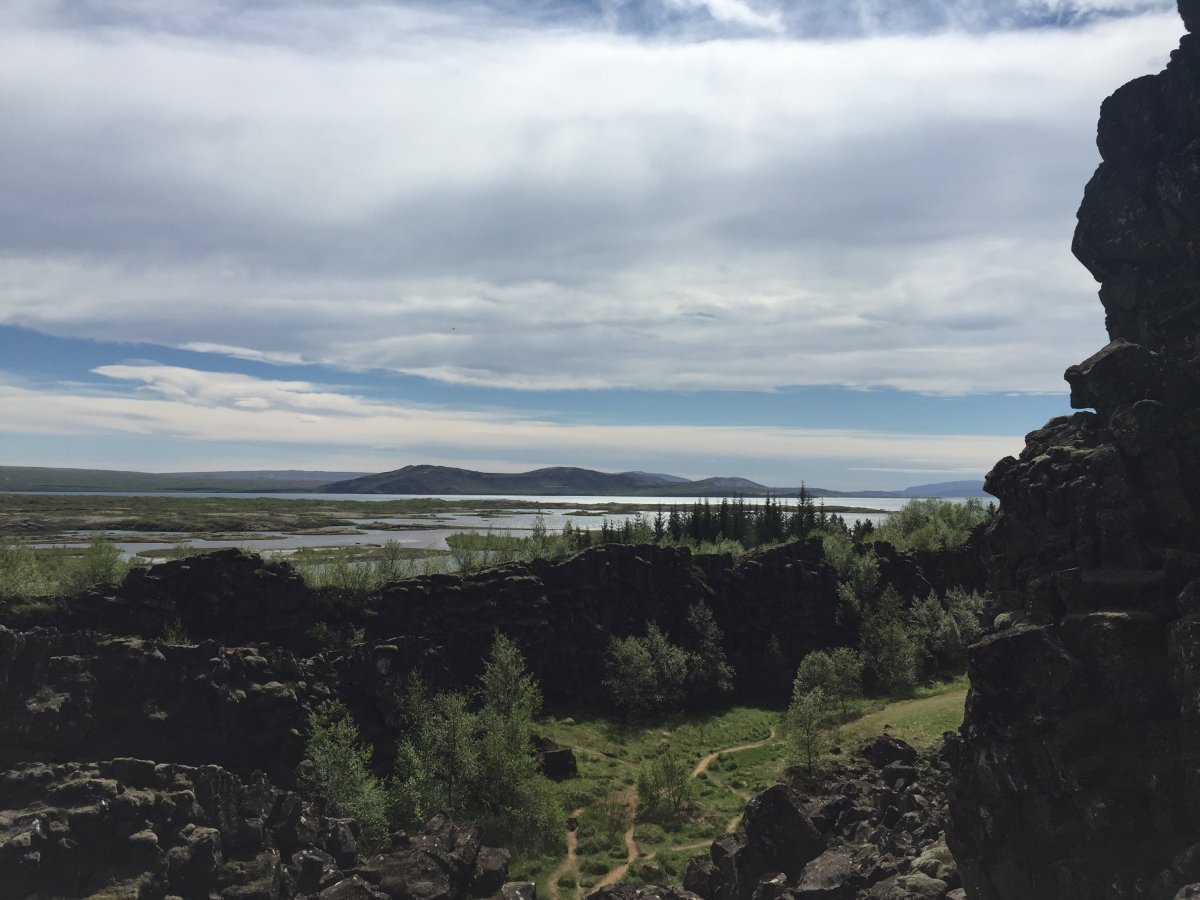 Þingvellir national park, just east of Reykjavik.
And, in our age of global travel and trade, ash clouds from Iceland continue to inflict trouble. Our most recent reminder came in 2010 when a cloud of ash from Eyjafjallajökull delayed flights globally for weeks.
Skógafoss, near Eyjafjallajökull, is one of many waterfalls seen from the Ring Road; Iceland's Ring Road, Highway 1, was completed in 1974 and circles the island in an 828 mile loop.
Just as Iceland's remote volcanoes can alter global weather patterns, distant human actions also affect the island. Rising global temperatures accelerate the melting of glaciers. And while glacial melt sustains the incredible array of waterfalls seen all along Iceland's picturesque Ring Road (like Skógafoss, pictured), some speculate the reduction of glacial cover could promote more volcanic activity.
Hiking near Eyjafjallajökull; More sights along the Ring Road.
Despite its hostile reputation and proximity to the Arctic Circle, Iceland is no stranger to people, and its landscape tells a human story.
Dyrholaey, southern tip of Iceland, boasts puffins and black volcanic beaches; Black beach at Dyrholaey.
Since the 9th century, settlers have felled all of Iceland's woodland, while their sheep and ponies have contributed to soil erosion. Iceland has picturesque black beaches (like Dyrhólaey), but soil quality generally poor for agriculture.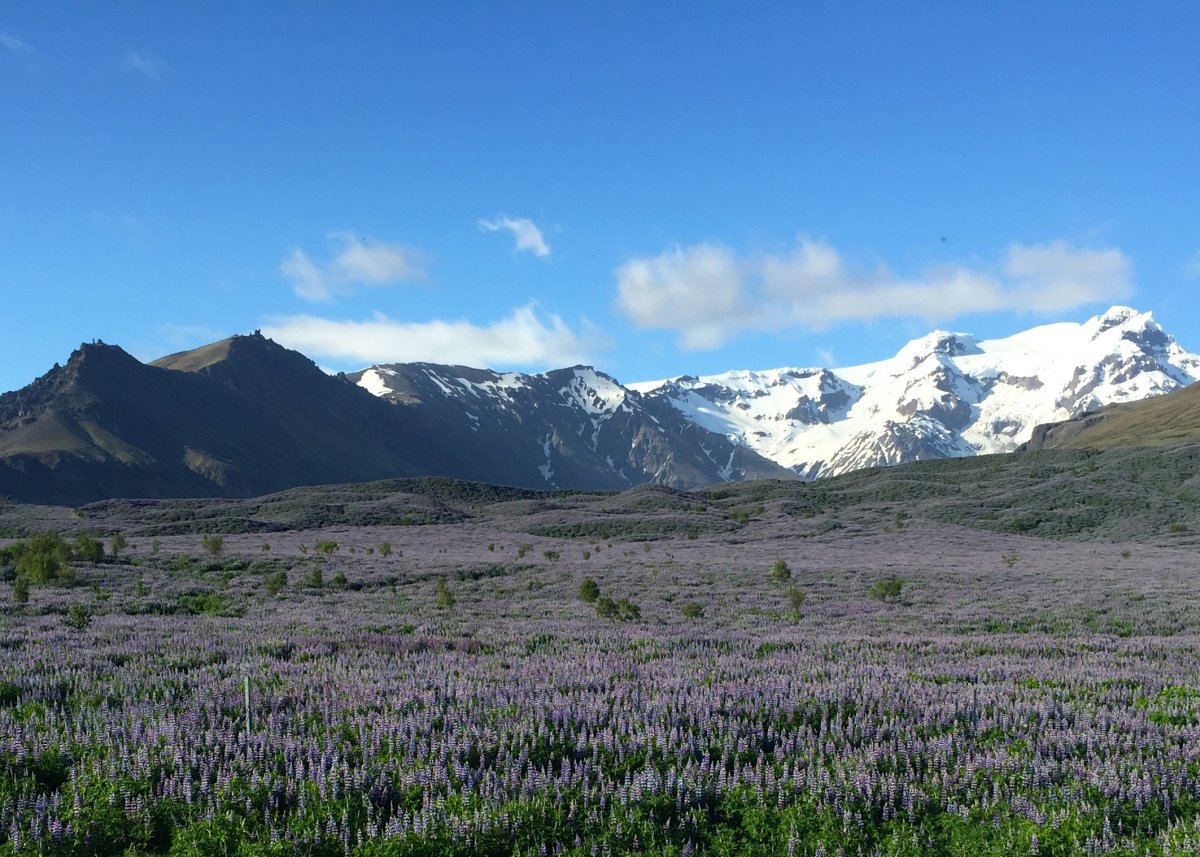 Alaskan lupine (nootka) flowers, near Skaftafell.
A new arrival, the Alaskan Lupine, has taken over where few other species could survive. Most Icelanders welcome the invasive flower because it helps curb erosion and adds nitrogen to soil, making the southwestern regions where it has grown rampant more fertile.
Iceland's Westfjords as seen from the sea; The harbor in Reykjavik, Iceland's capital.
Iceland may sound remote and unwelcoming, but tourists increasingly have begun to discover its beauty. Tourism has increased an average of almost 10% per year since 2000. The number of annual visitors doubled between 2000 and 2010, when half a million people visited the island. At this rate, Iceland's Tourism Board estimates one million people will visit the country in 2020.
With such an influx, humans will undoubtedly continue to reshape this volatile and volcanic, yet fragile environment.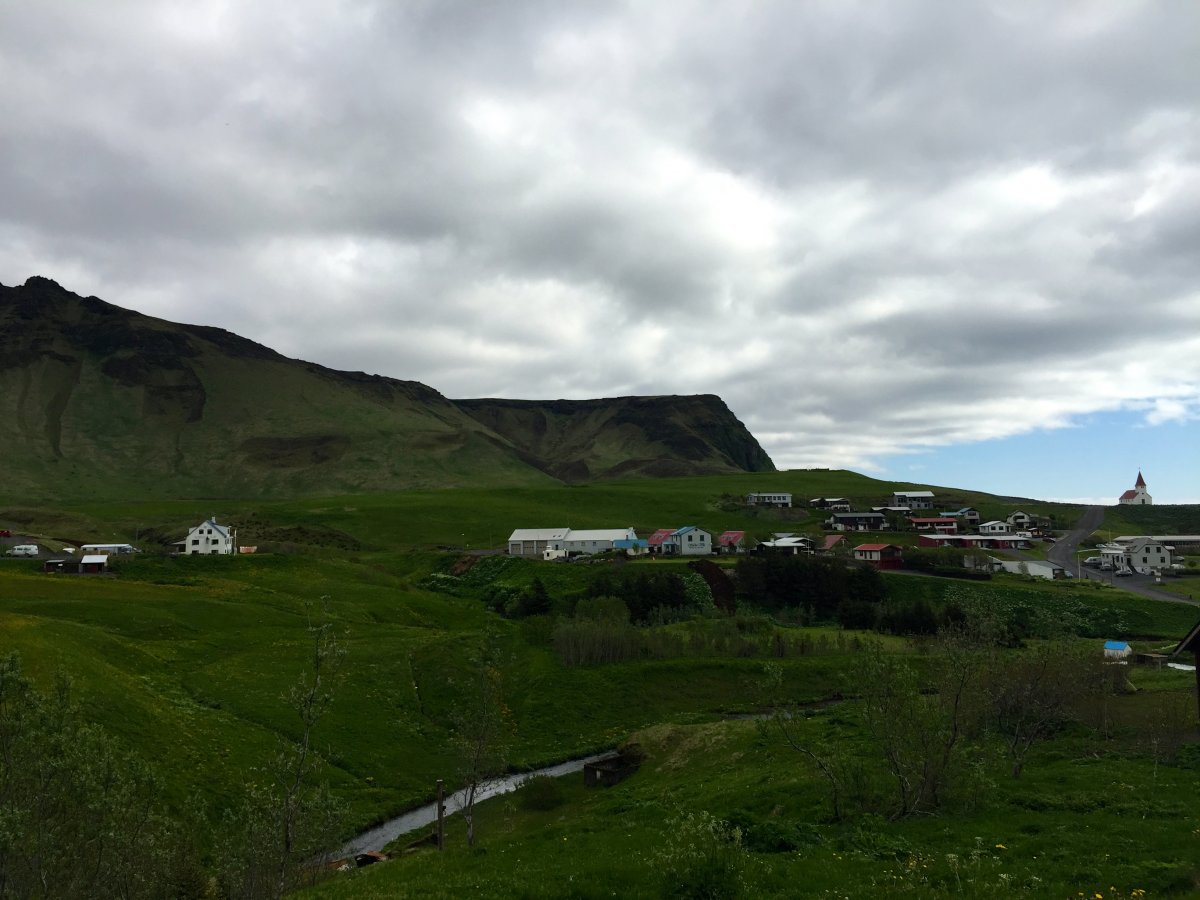 Vik, along Iceland's Ring Road.
[All photos by author, 2015]