Situated atop a large hill at an altitude of 5000 feet, the ancient city of Monte Albán was the Zapotec civilization's cultural, political, and economic capital for almost a millennium. Besides its stunning mountain views, Oaxaca City also offers vistas of Mexico's complex history.
In 1521, Hernán Cortés sent Captain José Francisco Orozco y Jiménez to the region beginning the era of Spanish colonization. Orozco established a colonial settlement about six miles north of Monte Albán, and called it Antequera. Thus was Oaxaca City born.
Western and indigenous cultures mingle in the Plaza de la Danza to the west of the zócalo: to the left, school children practice soccer; on the right, traditional dance.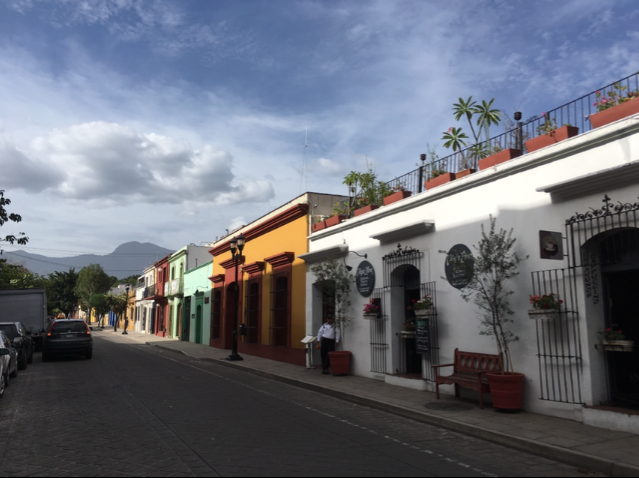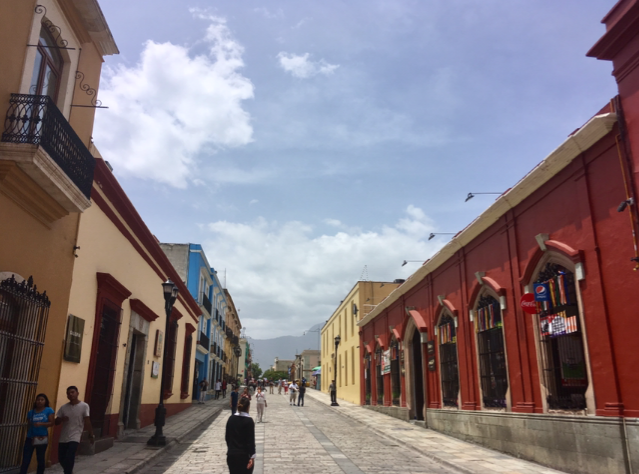 The Sierra Madres del Sur are the backdrop to colorful Oaxaca City.
Oaxaca City's central public square (el zócalo) was planned out by Spanish colonizers in 1529. In 1575, Spanish Dominicans began the construction the Church of Santo Domingo de Guzmán. Some two hundred years later, the last stone was laid on this stunning example of architectural syncretism, which boasts both Baroque and indigenous influences. Its opulent interior, much of it covered in 24 karat gold leaf, leads to a large pedestrian plaza which hosts a variety of traditional, indigenous festivals.
After Mexico gained independence from Spain in 1821, Antequera became Cuidad de Oaxaca, and it was named the capital of its surrounding region. The state is known today for the continued impact of its indigenous people on local culture. Along with Spanish, one can still hear Mixtec and Zapotec dialects spoken on its streets.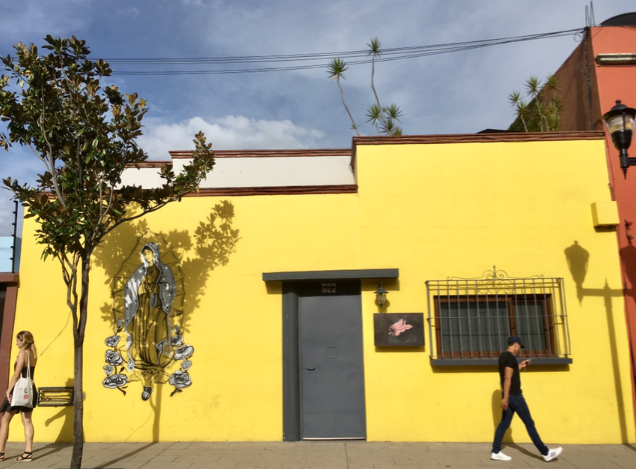 Many of Oaxaca City's homes are adorned with ornate street art.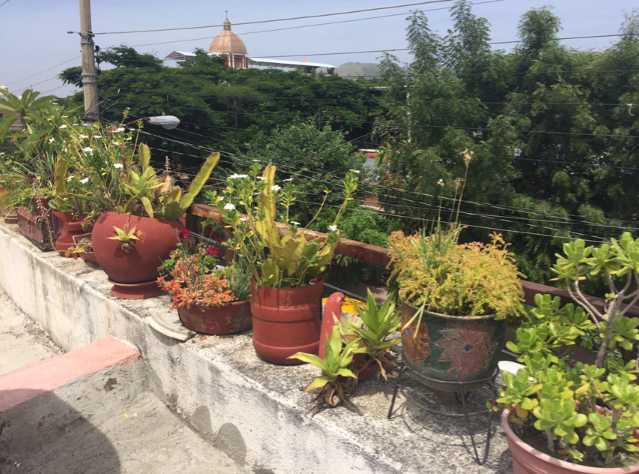 The state of Oaxaca is known for its biodiversity. It is home to 669 species of fern alone (Photo courtesy of Kelly Mill).
Oaxaca's rugged terrain means that many indigenous communities remain isolated: roughly 50% of the state's population are non-Spanish speakers. Until the post-World War II era, there were not many modern highways servicing the southern reaches of the country. Even today, the bus ride from Mexico City is harrowing and stomach churning. This inaccessibility has allowed for the preservation of indigenous culture. Indigenous arts and crafts are among the state's most important exports.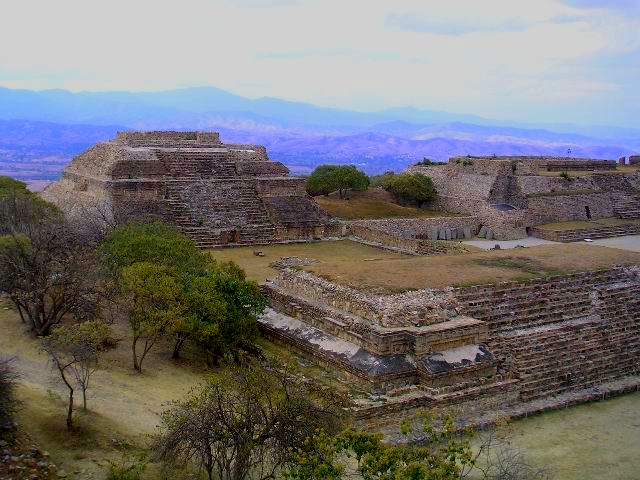 Around 100 C.E., Monte Albán's population of about 17,000 Zapotecs made it one of the largest cities in Mesoamerica. (Photo Credit: Wikimedia).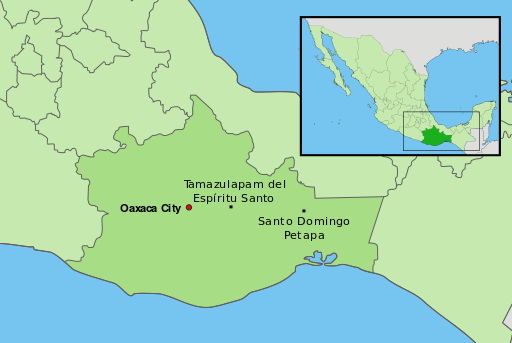 Oaxaca City is the state capital of the southern Mexican state of Oaxaca. Its metropolitan population is about 650,000. (Photo Credit: Wikimedia).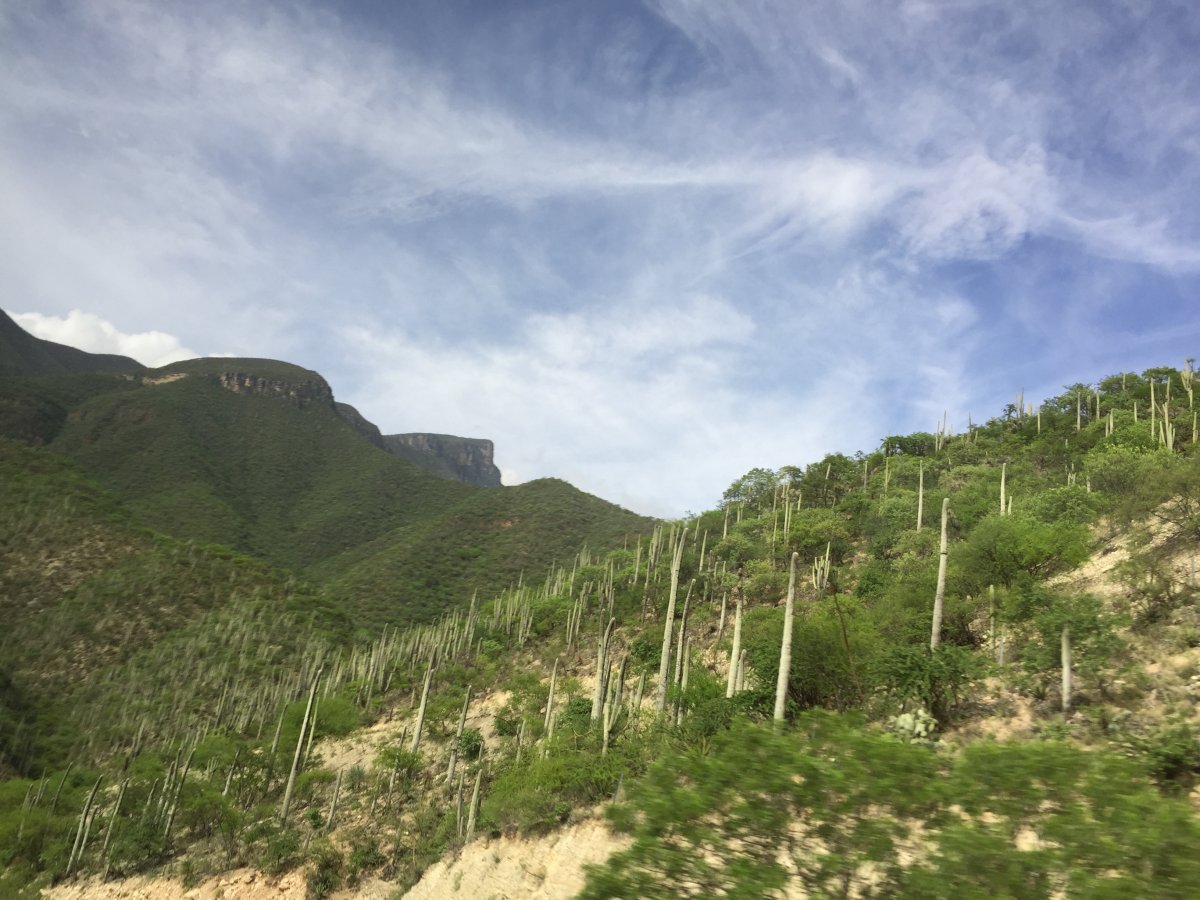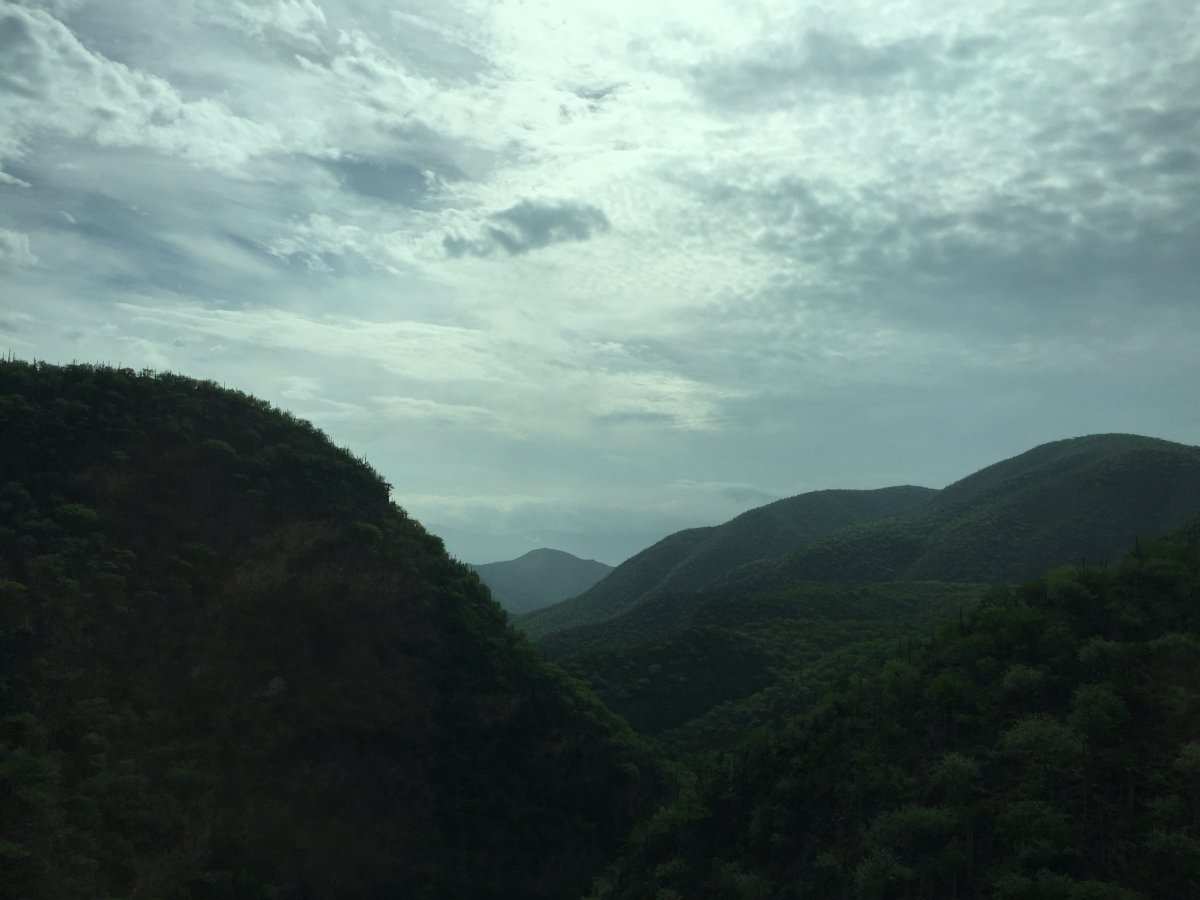 The state of Oaxaca features some of the most rugged terrain in Mexico: the Sierra Sur mountain range keeps indigenous communities in relative isolation. (Photos courtesy of Kelly Mill).
Oaxaca City launched the political careers of two hugely influential Mexican politicians.
The first, Benito Juárez, initiated a period of liberal reform—known as La Reforma—after he overthrew the authoriatarian President López de Santa Anna in 1855. Juárez was elected President of Mexico in 1860. In 1872, after his death, Oaxaca City was renamed Oaxaca de Juárez in honor of its native son.
The second, Porforio Díaz, came to dominate national politics in 1876 by means of a coup. The profoundly illiberal Porfirato (1876-1911) saw the growth of a technocracy and the creation of a middle class, but was also marked by severe political repression.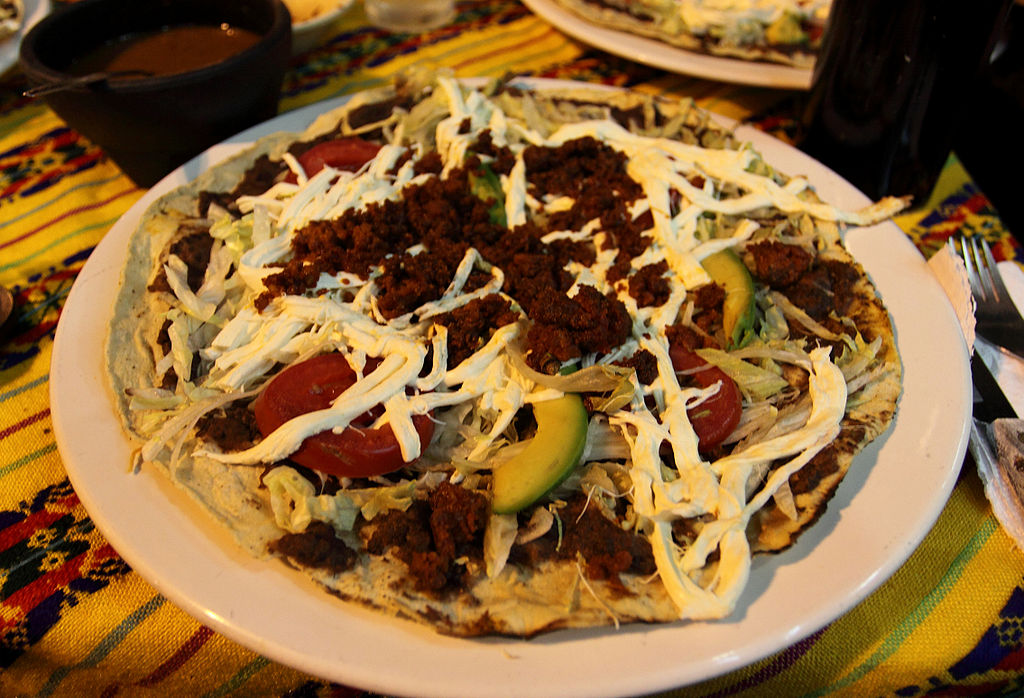 A tlayuda topped with Oaxaca cheese and chorizo. Oaxacan cuisine was the first endemic Mexican food to syncretize with Spanish food. Oaxaca cheese is an adapted form of mozzarella. Spanish sausage (chorizo) is on offer with tacos. Seven types of mole are served with most meals. Many Oaxacans consume chocolate in beverage form. Chapulines (grasshoppers) are considered delicacies, and are found in Oaxacan markets. (Photo Credit: Wikimedia).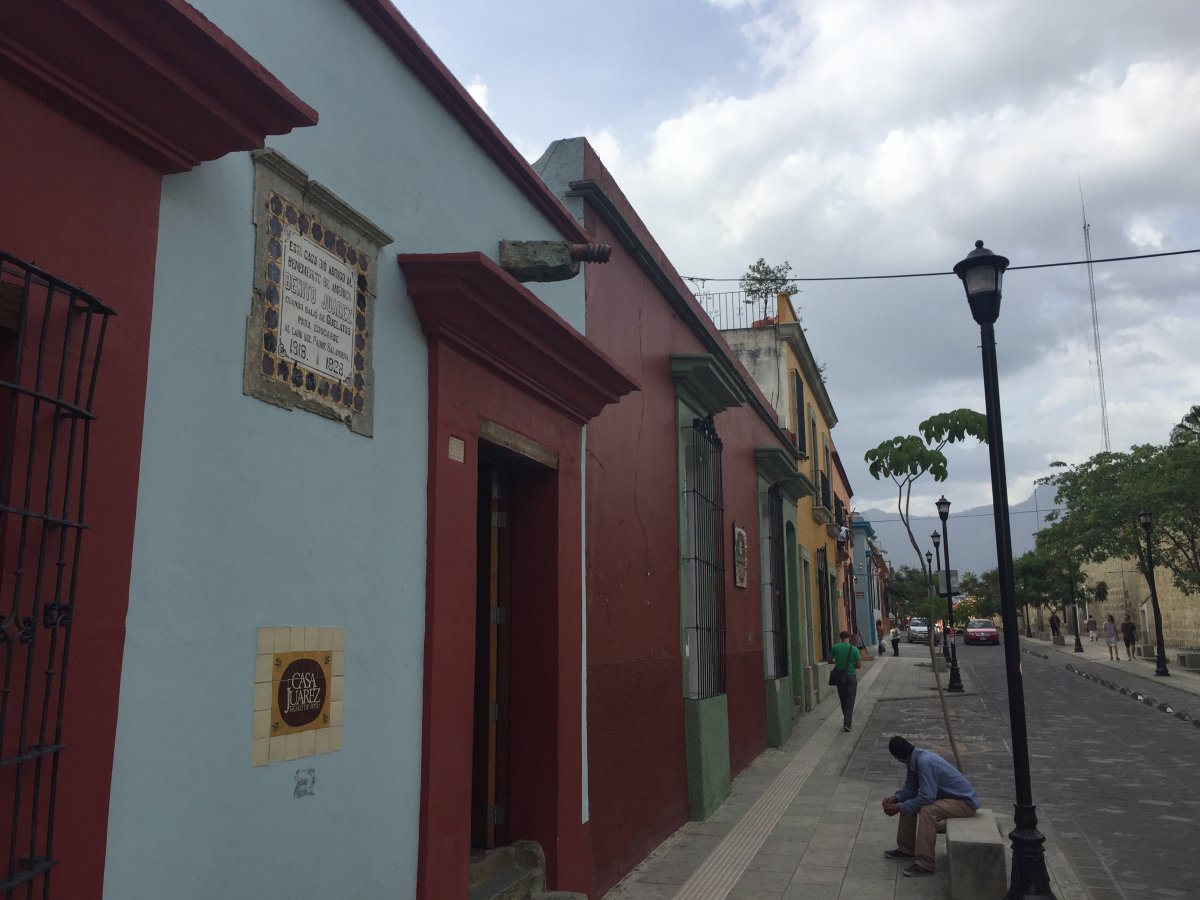 The famed liberal and author of Mexico's Reforma Benito Juárez lived at  No. 609, Calle García Vigil from 1819 to 1828.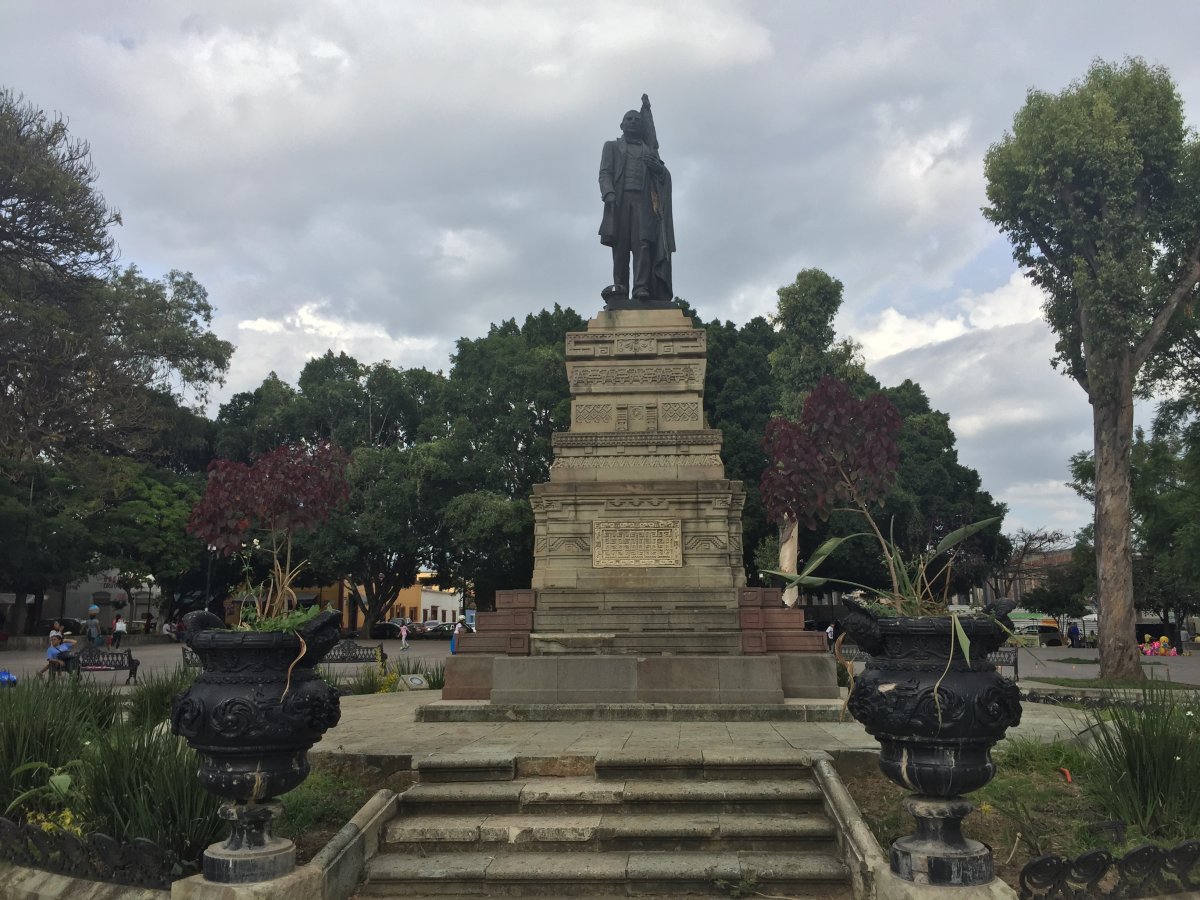 At the center of Benito Juárez Park (El Llano) stands a statue to Oaxaca's native son.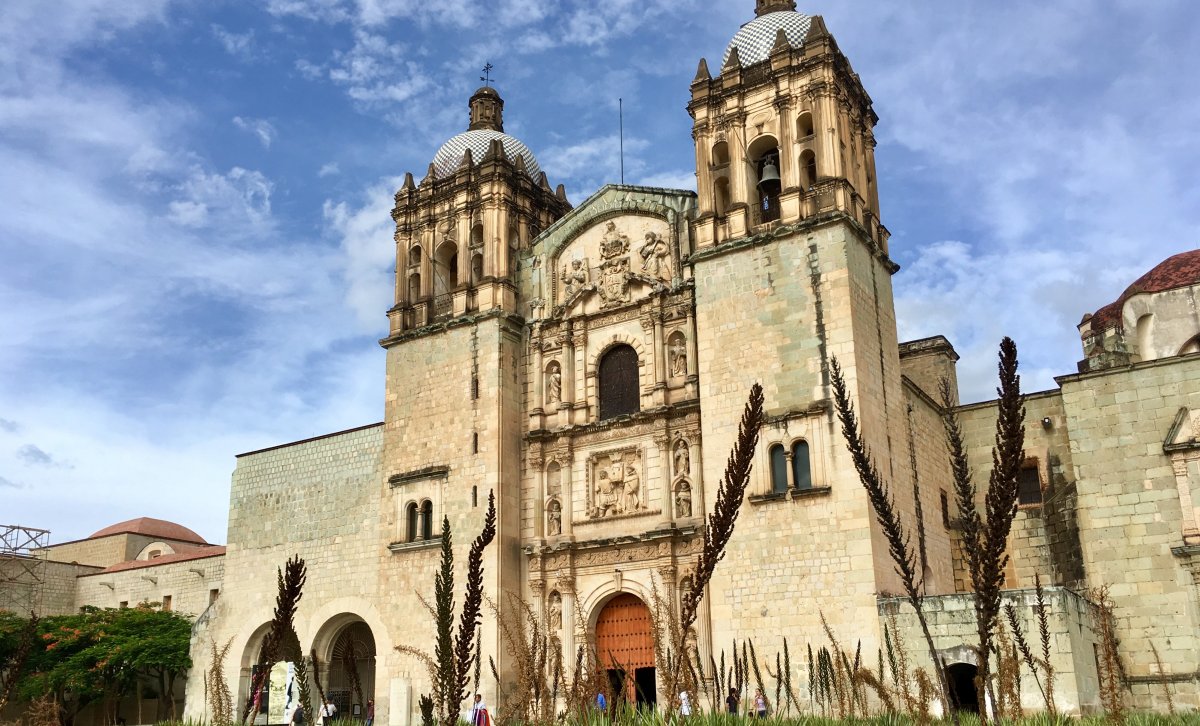 The Church of Santo Domingo de Guzmán was fully restored in 1999.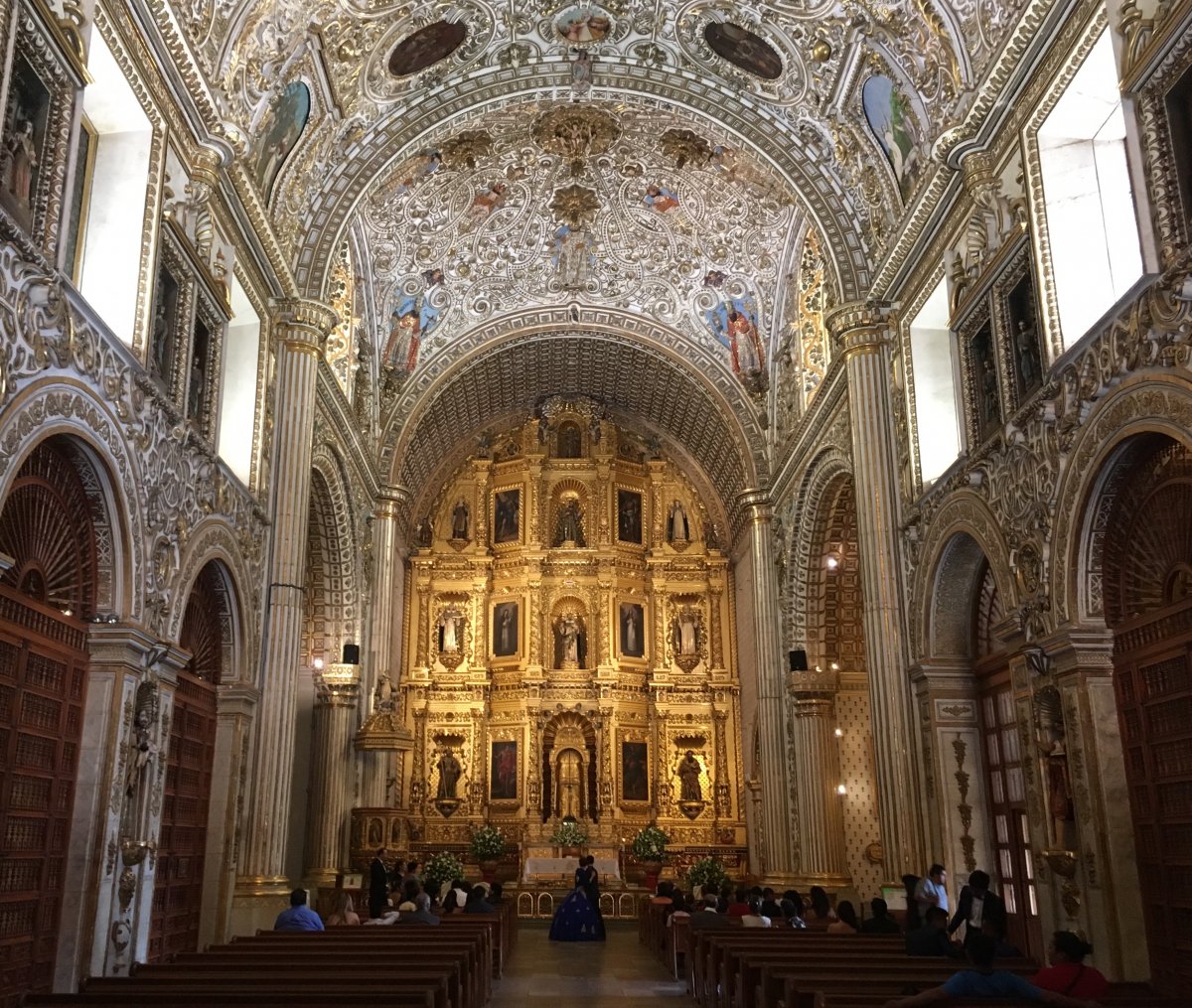 The interior of Santo Domingo de Guzmán.
Oaxaca's central square was not paved until after the Mexican War of Independence in 1821. In 1901, an Art Nouveau gazebo was added to the zócalo, where bands play today. It also remains the center of political activity.
In May of 2006, teachers gathered there to protest low wages and poor benefits. Oaxaca has long been one of the poorest states in Mexico. Those protests ultimately led to a revolt involving upwards of 300,000 Oaxacans lasting 4 months. 
Governor Ulises Ruíz Ortiz used police to retake the zócalo, and at least a dozen Mexicans and one reporter from the United States were killed. Those events are memorialized in a series of murals that commemorate the events and continuing spirit of 2006.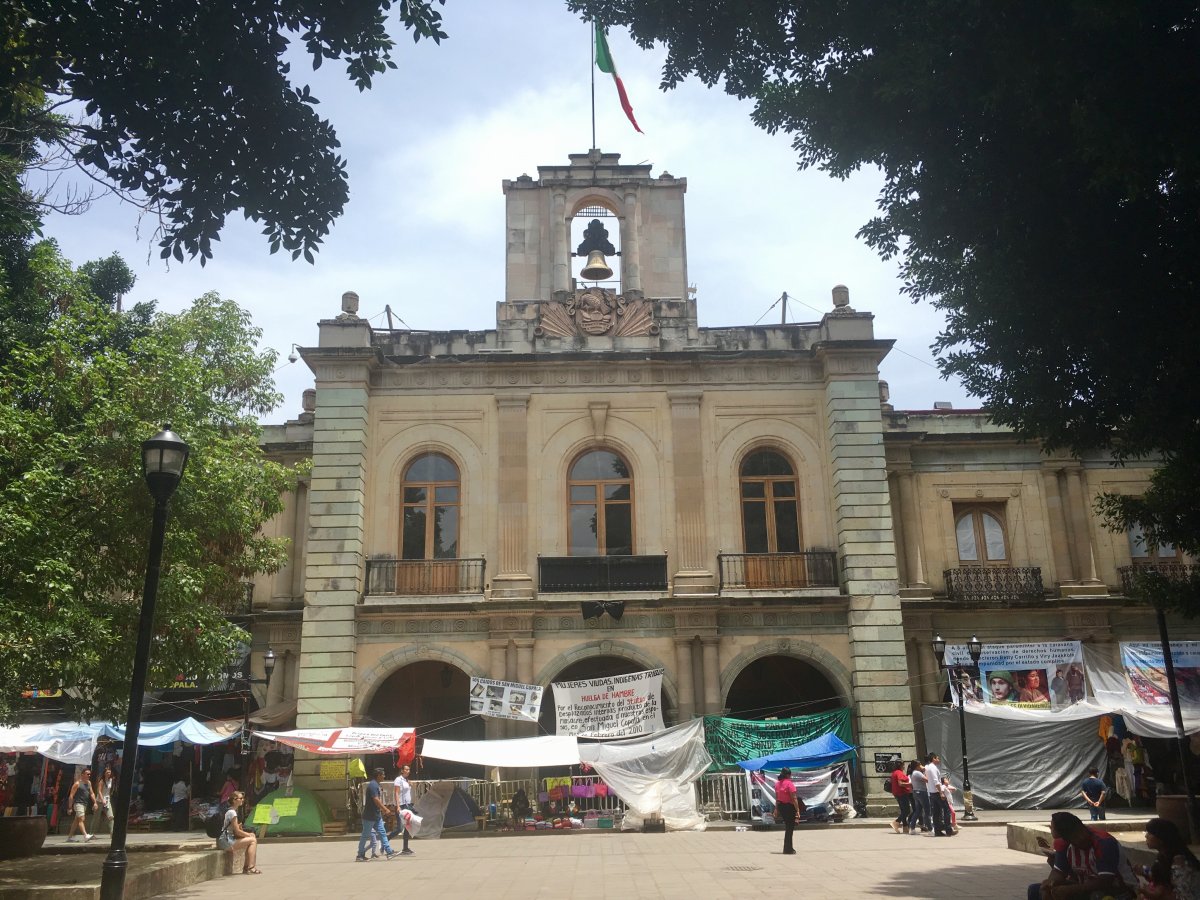 The state building in the zócalo looks out over a large pedestrian plaza. Protesters and banners have displayed political messages here for decades.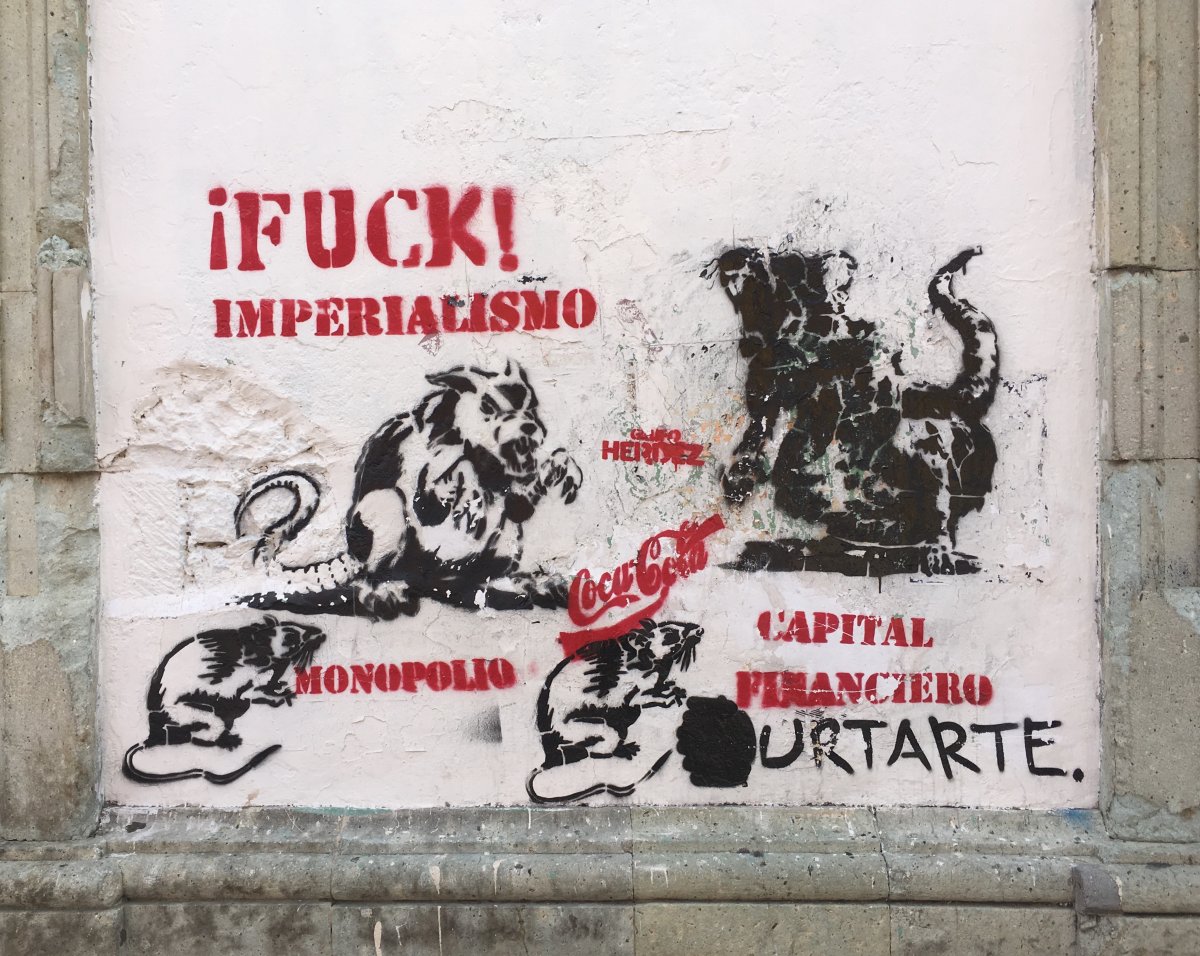 Street art on a building off of the zócalo, framed by Oaxaca's distinctively green cantera stone.
On July 1, 2018, Mexicans headed for the polls to vote in federal elections. For the past three, Oaxacans have caucused with presidential candidate Andrés Manual López Obrador (colloquially known as "AMLO"). AMLO gained a national political reputation in the 1980s as an opposition candidate under the small but high profile anti-corruption Partido de la Revolución Democrática (PRD). 
Running on a platform to narrow Mexico's vast wealth gap, to reduce cartel-related violence, and stand up to President Trump's anti-immigrant policies, perhaps his biggest campaign promise was to address widespread government corruption. Obrador won the election.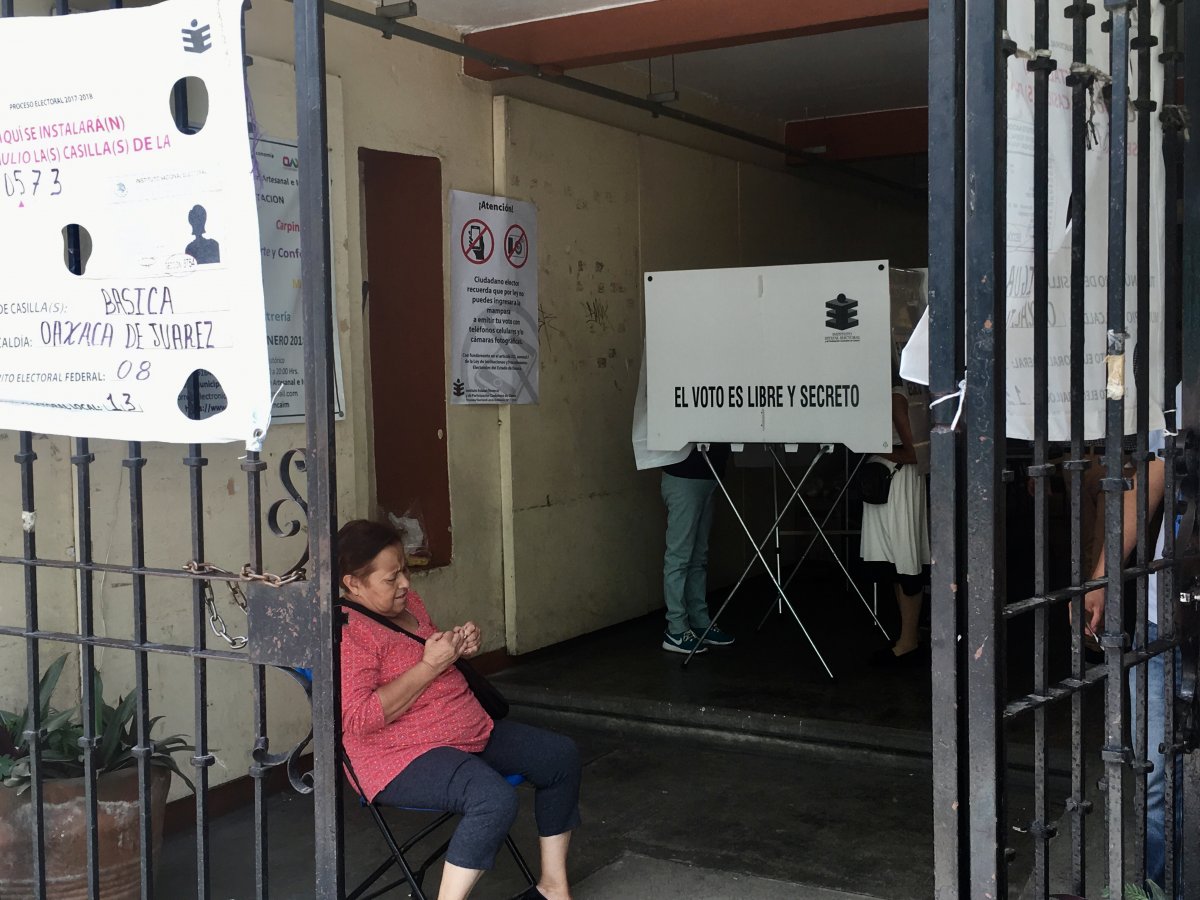 Oaxacans queue up to vote in the July 1 federal elections. The ballot boxes read "The vote is free and secret."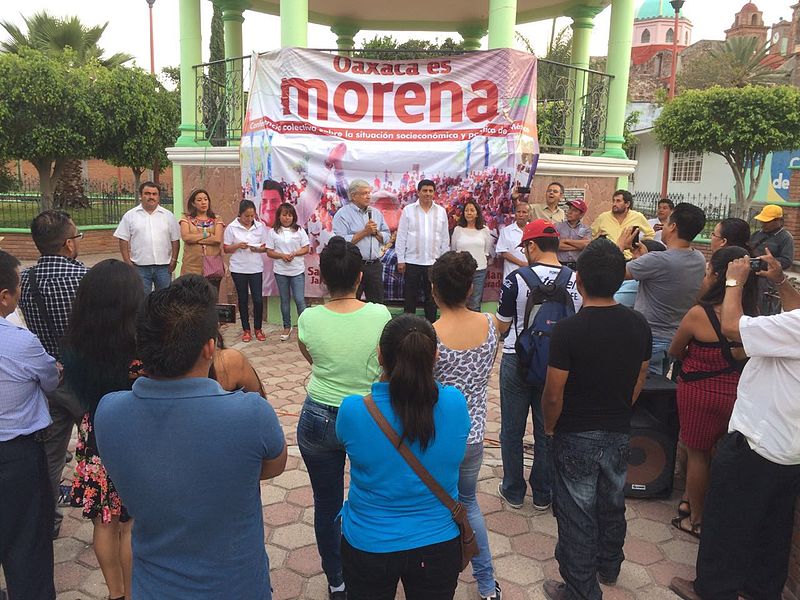 Andrés Manual López Obrador addresses Oaxacans in 2016. The banner reads "Oaxaca is MORENA." (Photo Credit: Wikimedia).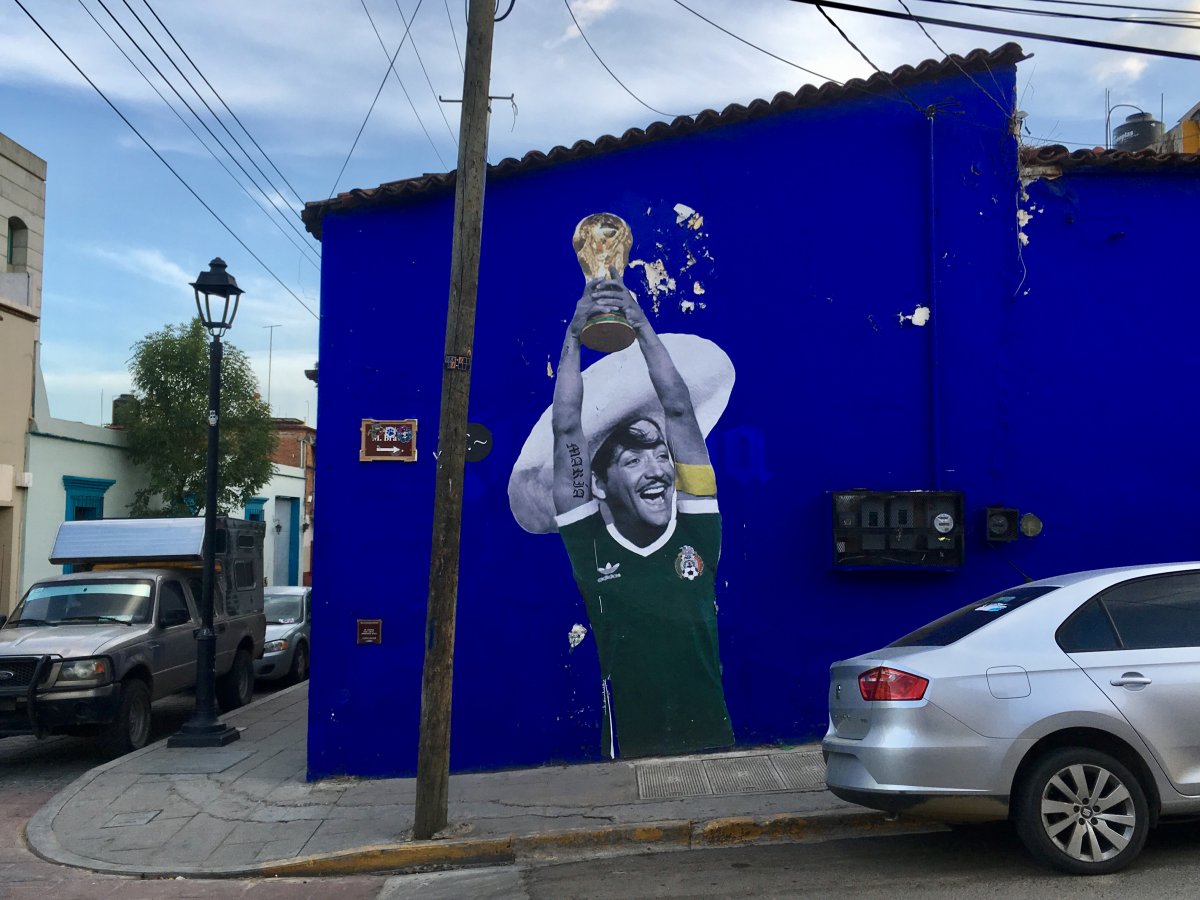 El Mundial is about more than soccer for many Oaxacans.
Though he moved some of his political positions to the center in order to widen his political appeal, many Oaxacans are heartened by AMLO's win. They suffer disproportionately from Mexico's myriad social problems (the only Mexican states that rank lower on the Human Development Index are Guerrero and Chiapas).
After all of Obrador's opponents conceded defeat, some two hours after the polls closed, clarion firework explosions and the claxons of automobile parades were heard echoing throughout the hills surrounding Oaxaca City. Oaxacans look forward to the day when the daily wage they receive accords with the wealth of their culture.
Further Reading:
Buchenau, Jürgen. Mexican Mosaic: A Brief History of Mexico. Hoboken, New Jersey: Wiley-Blackwell, 2012.
[All photos by author unless otherwise noted]