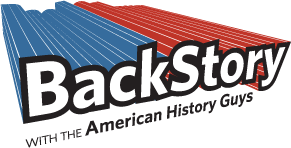 From time to time, we like to take a moment to highlight fantastic history sites from around the web. These are websites that – much like Origins – seek to bring historyinto public conversation.
This month, we are focusing on 
BackStory
is "a public radio program & podcast that brings historical perspective to the events happening around us today. On each show, renowned U.S. historians Ed Ayers, Peter Onuf, and Brian Balogh tear a topic from the headlines and plumb its historical depths. Over the course of the hour, they are joined by fellow historians, people in the news, and callers interested in exploring the roots of what's going on today. Together, they drill down to colonial times and earlier, revealing the connections (and disconnections) between past and present. With its passionate, intelligent, and irreverent approach, BackStory is fun and essential listening no matter who you are.
BackStory has passed the 3.9 million mark for podcast downloads, with 28,000-30,000 weekly subscribers and more than 800,000 SoundCloud followers. The weekly show is currently broadcast by 36 primary public radio stations, serving 72 communities in 20 states and Washington, D.C.—and more than 40 other public stations, many in major markets, regularly air BackStory episodes as specials." [description from 
BackStory
website]