On Sunday, September 11th, an estimated 7 million viewers will tune in to ABC's live broadcast from Atlantic City, New Jersey to see which contestant will be crowned "Miss America 2017." Longtime beauty pageant owner, former Atlantic City casino magnate, and current Presidential candidate Donald Trump has not announced plans to attend, but his career, including even his Presidential bid, owe much to beauty pageants and the culture they have helped to create. Long before Trump entered the race, beauty pageants and politics have been linked together by the strange history of the Miss America Pageant.
As early as the 1880s, business owners and community leaders began organizing beauty pageants in seaside towns, but journalists and travelers considered these events distasteful. Pageants remained unprofitable and intermittent. Prior to 1920, despite many attempts, no beauty pageant caught on as a national, annual event.
Then, in August of 1920 American women attained the right to vote. This transformed the cultural meanings of the beauty pageant. In the months that followed, the New York Times covered many women's firsts, including a woman running for the U.S. Senate on a "Women First" platform; women serving on juries for the first time; a group of women in Tennessee establishing the first "all feminine" bank; and a humorous article about the prospect of the first woman president.
On September 9, 1921 the Times ran a headline announcing another "first" for women: "1,000 Bathing Girls on View in Pageant: 150,000 See Picked Beauties in One-Piece Suits in Atlantic City's Fall Event." This "fall event" soon became known as the Miss America Pageant. Ostensibly a clever ploy dreamed up by hotel owners to extend the summer tourist season past Labor Day, what this event really offered was a public referendum on women's place in American life.
Of the 200 bathing beauties on display that September, one easily bested the others to be crowned the first Miss America: 15-year-old Margaret Gorman of Washington, D.C. At 5'1 and 108 pounds, Gorman remains the youngest and smallest Miss America on record. Observers from around the country cheered Gorman's selection. "She represents the type of womanhood America needs," opined labor leader Samuel Gompers, "strong, red-blooded, able to shoulder the responsibilities of homemaking and motherhood. It is in her type that the hope of the country rests."
The 1921 pageant was such a success that Atlantic City hotel owners doubled the budget for 1922 and invited women from across the county to compete in what was now a truly national event. The modern beauty pageant industry was born. Indeed, subsequent beauty pageants, including the Miss USA, Miss Teen USA and Miss Universe Pageants, all owned by Trump from 1996-2015, have more or less followed the Miss America template.
Throughout the twentieth century, beauty pageants provided a barometer for women's place in American life. In 1968, scores of feminist activists arrived in Atlantic City to declare "No More Miss America!" While no bras were burned in the "freedom trashcan," protesters attempted to incinerate many other tired gender stereotypes, including: "the Degrading Mindless-Boob-Girlie Symbol" and "the Woman as Pop Culture Obsolescent Theme."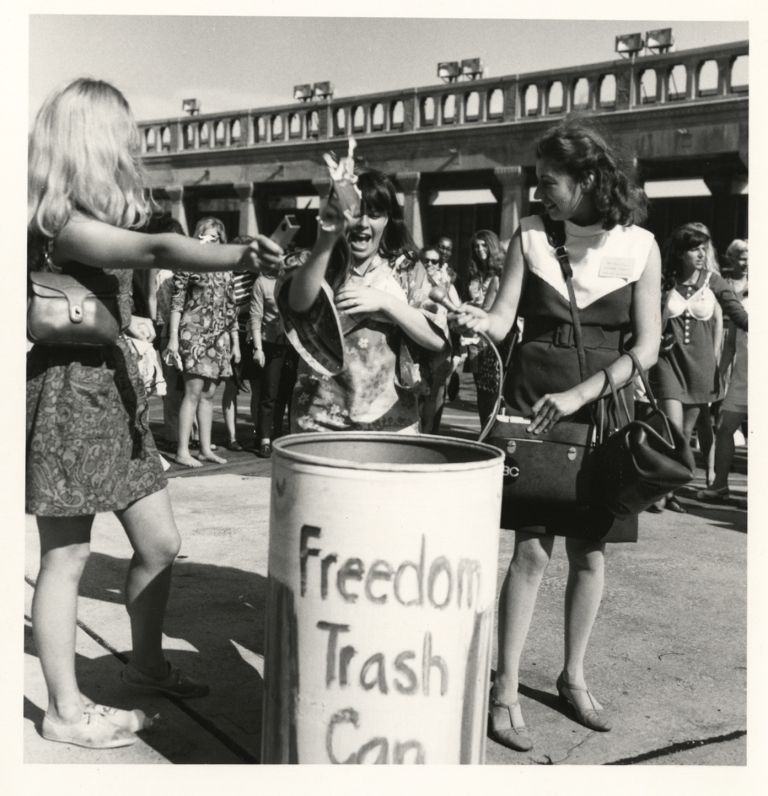 Throwing items into the Miss America Freedom Trashcan, 1969.
Since the early 2000s, the Miss America Pageant has lost viewers and struggled to find a stable home on a television network. Given their tenuous hold on TV audiences, one could argue that beauty pageants harken back to a bygone era. But a more compelling argument might be that beauty pageants now constitute the fabric of everyday life. Why tune in once a year to rate women in their bathing suits when you can do so every day from your smart phone?
Today, even Presidential campaigns take cues from beauty pageants. In 2008, Sarah Palin trumpeted her beauty pageant credentials as evidence of her fitness for the Vice Presidency. And in 2016, Donald Trump's beauty pageant impresario tactics –using his pageant ownership as a platform to help launch his TV career and publicly rating the looks of his female competitors, as well as those of the wives' of his male opponents-- have helped earn him the Republican nomination.
Given that the Miss America Pageant emerged the year after women attained the vote, it is eerily fitting that the first female major party nominee for President has to run against a man who has been, among other things, a beauty pageant owner and who appears to be most comfortable treating all women as beauty pageant contestants.
This fall, Hillary Clinton runs not only against Donald Trump, she also runs against 100 years of thinking that the best way to evaluate women is when they are wearing their bathing suits. The 2016 Presidential election offers voters not just the choice between a Republican and a Democrat, or even the choice between a man and a woman. Regardless of who is crowned Miss America on Sunday night or how many people tune in to watch, the 2016 election offers us the opportunity to decide what the ultimate symbol of women in America ought to be.