The Caucasus Mountains are one of history's great transition and contact regions, crossroads of a dizzying array of civilizations, cultures, and belief systems. In the Late Antique and medieval eras, Christianity, Zoroastrianism, Islam, and Hinduism rubbed shoulders in the region and left their marks. In the early modern period, Georgia in particular fell in the sphere of influence of, variously, Iran, the Ottoman Empire, and Russia.
Recently, I traveled to the Caucasus—specifically, Georgia and Azerbaijan—to pursue a few lines of inquiry related to my research and teaching.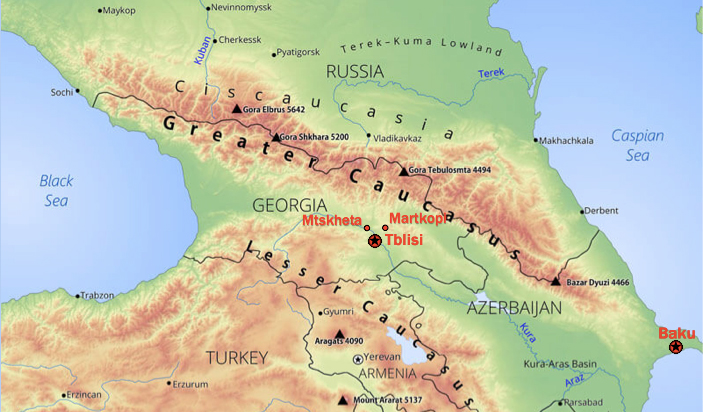 Map of the Caucasus Mountains, indicating various locations in Georgia and Azerbaijan visited.
Georgia
My first stop was Georgia, a small country (population roughly three million) that converted to Christianity in the fourth century C.E. and has its own Georgian Orthodox Church.
My trip included a visit to the town of Mtskheta, about sixteen miles northwest of Tbilisi, which was the capital of eastern Georgia from the third century B.C.E. through the fifth century C.E., when the capital moved to Tbilisi. Mtskheta was founded at the confluence of the Mktvari (a.k.a. Kura) and Aragvi rivers. Near the bank of the Aragvi lies the ancient Svetitskhoveli Cathedral, whose history is inextricably linked to Georgia's conversion.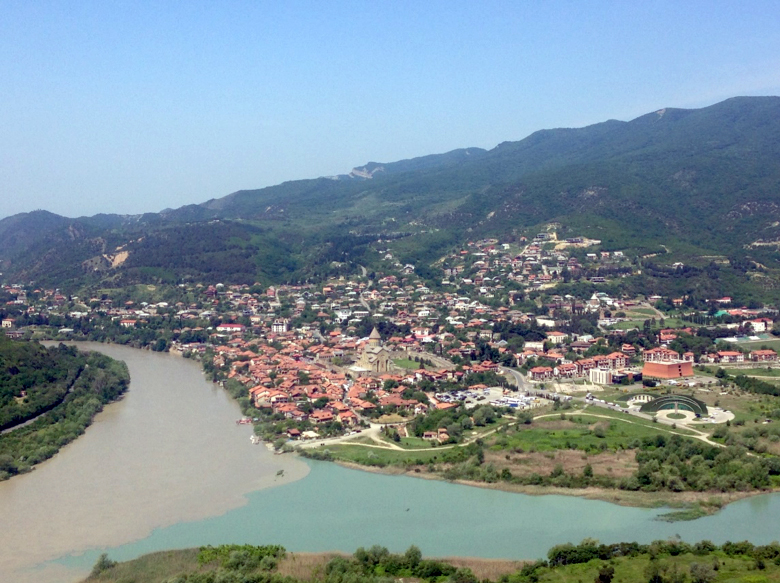 View of Mtskheta, Georgia, with the Svetitskhoveli Cathedral visible at center, on the bank of the Aragvi River.
According to legend, a Georgian Jew named Elias from Mtskheta happened to be in Jerusalem when Jesus was crucified. Elias bought Jesus' robe from a Roman soldier at Golgotha and brought it back to Mtskheta. As he entered the town, he was met by his sister Sidonia, who, upon touching the robe, immediately died from ecstasy. She had gripped the robe so tightly that it could not be removed from her grasp, so she had to be buried with it. The site where Sidonia is believed to have been buried with the robe is preserved inside the present-day cathedral.
One day, the legend continues, an enormous Lebanese cedar began to grow from Sidonia's grave. When I asked how a Lebanese cedar got to Georgia, my guide, as if on cue, replied, "It was a miracle!" Saint Nino (296-335 C.E.), the (female) saint who is responsible for Georgia's conversion, was determined to build a church on the site of Sidonia's grave and therefore chopped the cedar down and had seven pillars made from it for the church's foundation.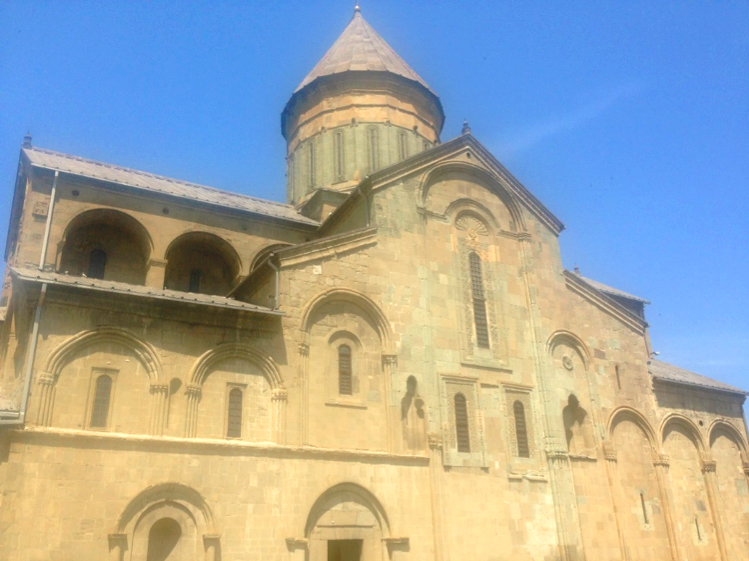 The Svetitskhoveli Cathedral (current structure originally built 1029 C.E.) in Mtskheta.
The seventh pillar apparently had magical powers, for it rose into the air, returning to earth only after St. Nino spent an entire night praying for it to come back. From its bark, once it was grounded, flowed holy oil, or chrism, that cured all kinds of diseases. The cathedral takes its name from this magical cedar pillar: sveti is Georgian for "pillar" while tskhoveli means "life-giving" or "living."
Some 1400 years later, Georgia was supplying the Ottoman Empire, and Iran under the Safavid and Qajar dynasties, with elite slaves (mamluks or ghulams), many of whom became influential courtiers and military commanders. Mamluks are one of my historical research interests.
In Tbilisi, I reconnected with a Georgian colleague, Professor Gocha Japaridze of Ivane Javakhishvili Tbilisi State University, whose career-long passion has been tracing the family backgrounds of Georgian mamluks who served in the Ottoman Empire's Arab provinces, above all Egypt and Iraq. (I had met Professor Japaridze in Cairo some years earlier; he has served as Georgia's ambassador to Egypt, Syria, Kuwait, and the United Arab Emirates.)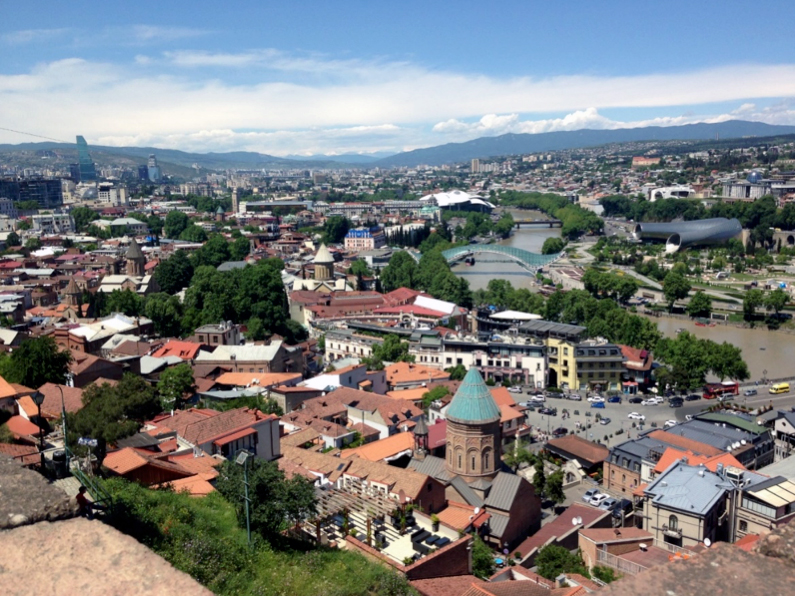 View of Tbilisi as seen from Narikala, the city's medieval citadel.
With Professor Japaridze and his doctoral student Konstantin Peradze, I traveled to the village of Martkopi, roughly twenty miles northeast of Tbilisi. Martkopi was the hometown of Ibrahim Bey al-Kabir (the Great), a mamluk who was essentially running Egypt when Napoleon invaded in 1798, and who ultimately died in exile in Sudan.
According to Professor Japaridze's research in the Georgian archives, Ibrahim Bey's original name was Abram Shinjikashvili. He recruited several family members from Martkopi for service in Egypt and sent back money to finance various building projects in the village. (He also corresponded with the king of Georgia.)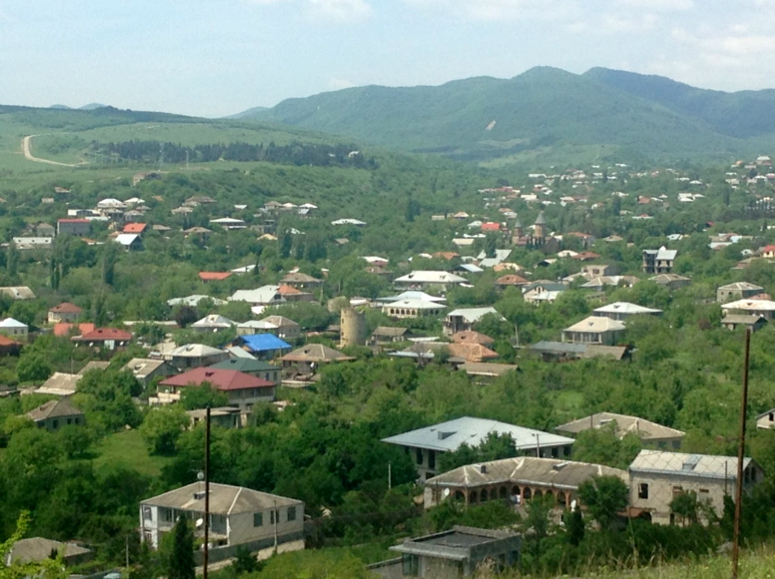 View of Martkopi, Georgia, with the nunnery (foreground, right of center), Ibrahim Bey's defensive tower (center), and Ibrahim Bey's church (upper right).
A peaceful little town well off the beaten tourist path, Martkopi is still dominated by Shinjikashvilis today. I was introduced to Giorgi Shinjikashvili, a retired wrestler and descendant of Ibrahim Bey's brother Basili. After visiting his brother in Cairo, Basili Shinjikashvili returned with money to repair a church that had been damaged in an earthquake, as well as to build a four-story defensive tower to protect the Shinjikashvilis against raids from Lezghian horsemen from the Caucasus.
Not surprisingly, Ibrahim Bey is a hero to the modern-day Shinjikashvilis of Martkopi. To honor him, Giorgi Shinjikashvili commissioned a table-top equestrian statue of the bey, even though no one knew what he looked like, due to a lack of any pictorial representations. The sculptor therefore approximated his features based on those of a sampling of Shinjikashvilis (he also gave the bey a ripped torso).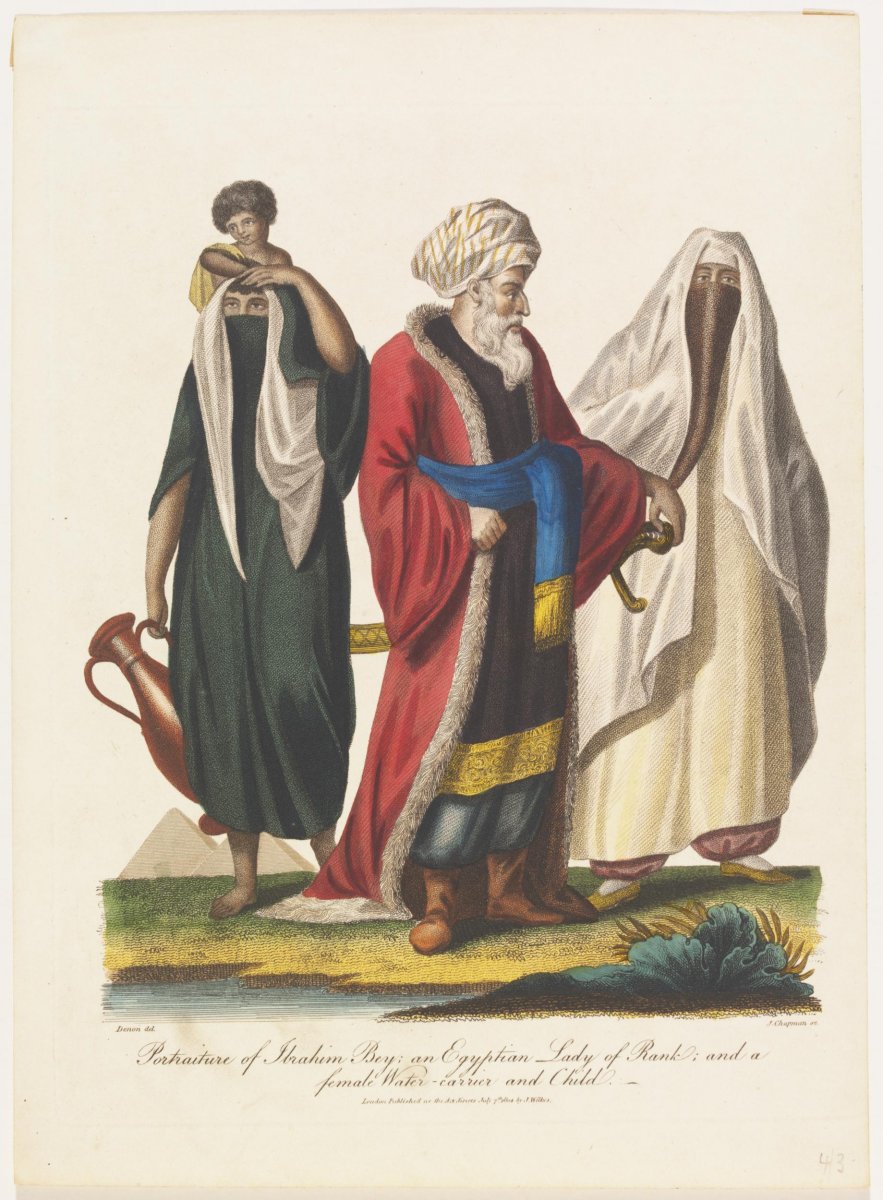 1804 Portrait of Ibrahim Bey by Dominique Vivant Denon, © Victoria and Albert Museum, London.
As luck would have it, though, Professor Japaridze and his student had discovered a lone period portrait of Ibrahim Bey in the online collection of London's Victoria and Albert Museum; they presented a framed copy to Mr. Shinjikashvili.
For his part, Mr. Shinjikashvili, showed us the defensive tower and the much-restored church to which Ibrahim Bey had contributed, as well as a hilltop church that he himself had built only a few years before.
We also visited a small nunnery, originally built in 1980 as a residence for the Patriarch of the Georgian Orthodox Church but turned over to the nuns in 1998, when the Patriarch relocated to Tbilisi. The nuns there make their own soap and chocolate, and train local youth to tend their impressive gardens.
When we returned to Mr. Shinjikashvili's home, we found that his wife had laid out a lavish spread of fruit, sweets, and homemade wine. Then the toasting started. Seemingly endless toasts are a famous part of Georgian culture.
We toasted Ibrahim Bey, of course, and Professor Japaridze, who is a hero to the Shinjikashvilis for bringing their ancestor the attention he deserves in Georgia. I was toasted, and I in turn toasted the Shinjikasvilis and Professor Japaridze, thanks to whose generosity I was able to participate in this unforgettable event.
Azerbaijan
After the whirlwind of Martkopi, my time in Azerbaijan and its capital city of Baku was far more subdued, though very interesting in its own right. Before the rise of Islam, this region was heavily influenced by Zoroastrianism, the ancient dualistic religion associated with ancient Iran.
The world's most famous Zoroastrian "fire temple" is located in Surakhani, just west of Baku, and I participated in a day-long tour that stopped at the reconstructed temple complex.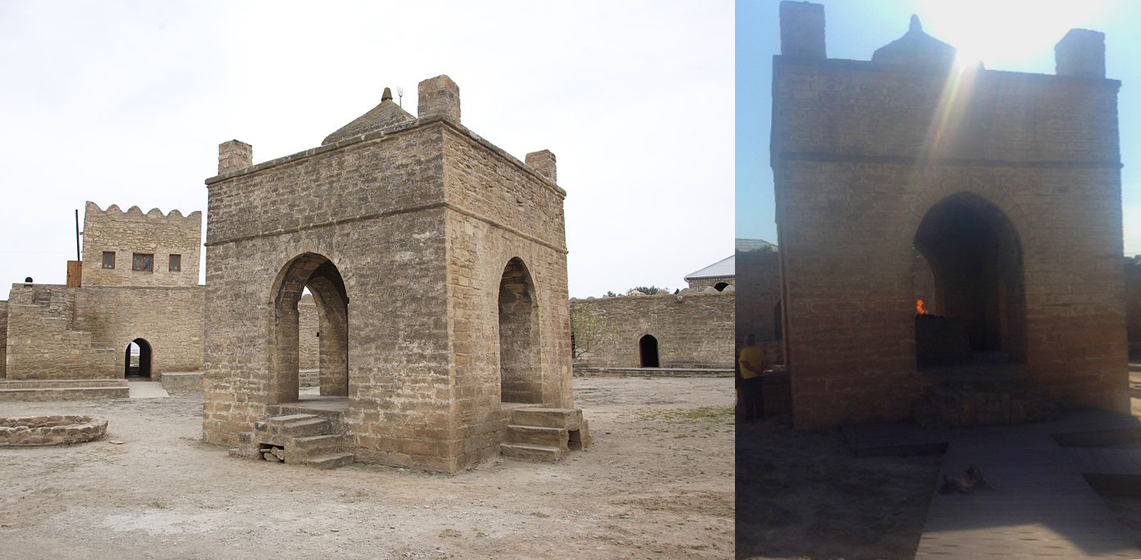 The Zoroastrian fire temple complex at Surakhani, near Baku (left); the replica of the fire temple's eternal flame (right).
Although this was the site of a Zoroastrian temple for centuries, the current structure was actually built in the seventeenth century by Hindus—presumably merchants from South Asia—as a site for the worship of the god Shiva. Nonetheless, a replica of the eternal flame that would have featured in the Zoroastrian temple is now on display, and the surrounding rooms contain exhibits about Zoroastrianism and Hinduism.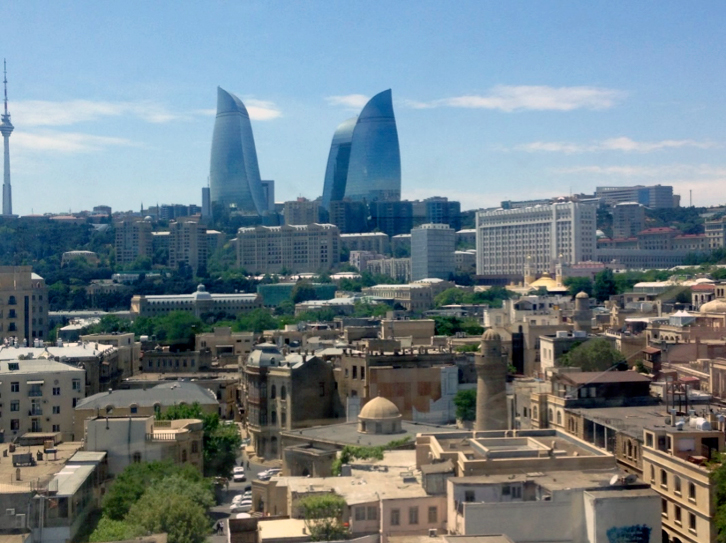 View of Baku from the roof of the Maiden Tower, showing the Juma Mosque in the foreground and the Flame Towers in the background.
Today, three "Flame Towers" dominate Baku's skyline: gigantic glass and steel structures that are supposed to symbolize the country's historical links to Zoroastrianism. Baku also features numerous other works of modernist architecture, notably the Heydar Aliyev Center, named after the late president (1923-2003) and designed by the late Zaha Hadid, situated right across a massive plaza from a probably-never-to-be-finished Trump hotel.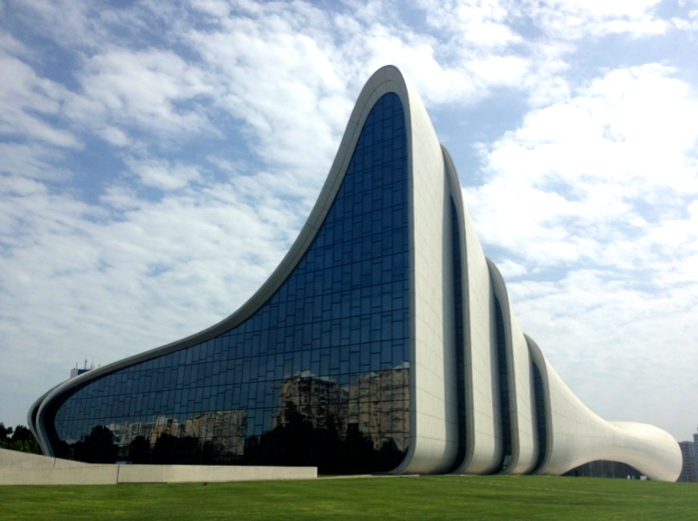 The Heydar Aliyev Center in Baku, Azerbaijan.
Azerbaijan is very secular today, after decades of Soviet domination. Still, it remains a majority Shi'ite Muslim country. It became Shi'ite following the rise of the Safavid empire, which began in Azerbaijan and conquered Iran in 1501.
One doesn't ordinarily hear the Shi'ite call to prayer in the streets in the course of a normal day, even during Ramadan. Nonetheless, I did happen to hear it as I was passing the Juma Mosque at noontime one day. Rather ironically, most of Baku's "historic" architecture dates from the reign of the Sunni Shirvanshahs, a Persianized Arab dynasty that took over Baku and vicinity in the eighth century C.E. and ruled until the Safavids conquered them.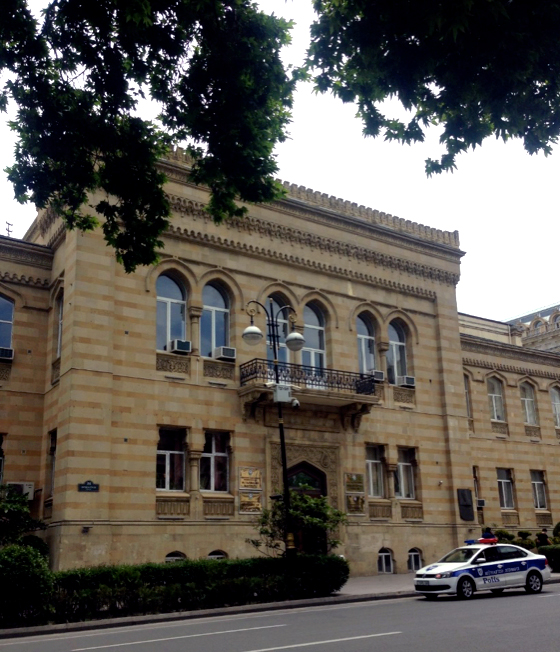 The Manuscripts Institute in Baku, Azerbaijan.
A colleague of mine, Associate Professor Nabil al-Tikriti from the University of Mary Washington, was finishing a Fulbright year in Baku when I visited. He was doing research at Baku's Manuscripts Institute (Əlyazmalar İnstitutu in Azeri Turkish), which turned out to have an impressive collection of works of history and literature in Arabic, Ottoman Turkish, and Persian, as well as Azerbaijani Turkish—a tremendous research resource for scholars of Islamic history.
[All images by author, except where otherwise indicated]