Because of COVID-19, N95 respirators and cloth masks—their availability and their efficacy—now dominate the news and are at the heart of often vitriolic public debates. Both futuristic and somehow archaic at the same time, millions now depend on their use to prevent infection of a potentially deadly illness.
Written by James Esposito. Narration by Dr. Nicholas B. Breyfogle.
Video production by Laura Seeger and Dr. Nicholas B. Breyfogle. Production assistance by Kristin Osborne. Audio production by Paul Kotheimer, College of Arts & Sciences Academic Technology Services. The Origins' editorial team includes Editors Nicholas Breyfogle, Steven Conn and David Steigerwald; Managing Editors Lauren Henry and Sarah Paxton ; Associate Editors: Mina Park and Kristin Osborne
We thank the Stanton Foundation for their funding of this and other Origins projects.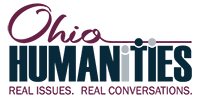 This content is made possible, in part, by Ohio Humanities, a state affiliate of the National Endowment for the Humanities. Any views, findings, conclusions or recommendations expressed in this content do not necessarily represent those of the National Endowment for the Humanities.