As the world grapples with the ongoing pandemic of COVID-19, it is important to remember that this is not the first but rather the seventh human coronavirus that scientists have discovered since the mid-1960s (four of which just cause a common cold in humans).
It is also the second to cause a global pandemic in the 21st century. In 2003, a global pandemic of the Severe Acute Respiratory Syndrome, SARS (SARS-CoV), provides an important recent historical viewpoint on how we might understand and respond to today's novel viral threat.
On November 16, 2002, the first case of an atypical pneumonia was reported in the Guangdong province of southern China. According to the World Health Organization (WHO), it might have been the first case of a then-unidentified infection that would spread to 26 countries across four continents (North and South America, Europe, and Asia) over the following eight months.
The disease most likely spread outward from China first to Hong Kong in February 2003, where 64-year-old medical professor Dr. Liu Jianlun checked into the Metropole Hotel. Unaware of his illness, which would tragically kill him two weeks later, he infected other hotel guests on the ninth floor of the hotel. They, in turn, carried the disease around the globe—to Canada, Singapore, and Vietnam—as the first "super-spreaders."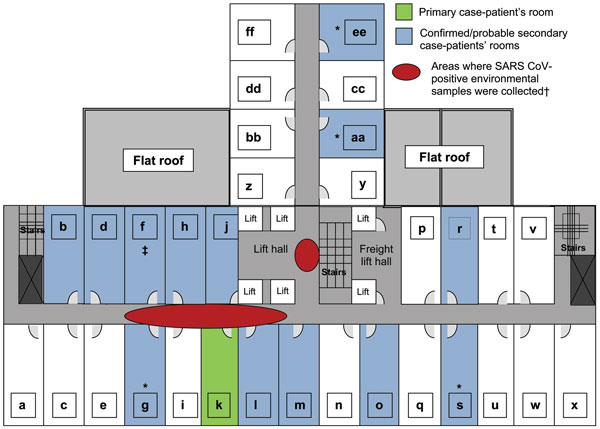 Layout of the ninth floor of Hotel Metropole where the first case of superspreading occurred.
The characteristics of the SARS virus affected the speed, intensity, and geographical spread of infection. The basic reproduction number (R0)—the epidemiological approximation of how many new cases each existing case will infect—of SARS is approximately 3. Such a high R0 gave SARS the potential to grow exponentially.
However, its slow incubation period and lagging infectious period resulted in a slower spread than the COVID-19 pandemic, which seems to be spreading rapidly, in part by asymptomatic carriers. The key to containment of a pandemic is to reduce its R0 below 1.0 and achieving this will be a key benchmark of success in containing the COVID-19 pandemic.
While most SARS patients experienced "influenza-like" symptoms, severe cases evolved swiftly. These patients experienced severe respiratory distress and required oxygen and mechanical support from intensive care units. By the end of the pandemic in July 2003, 8,098 cases of SARS were reported globally, killing 774 patients.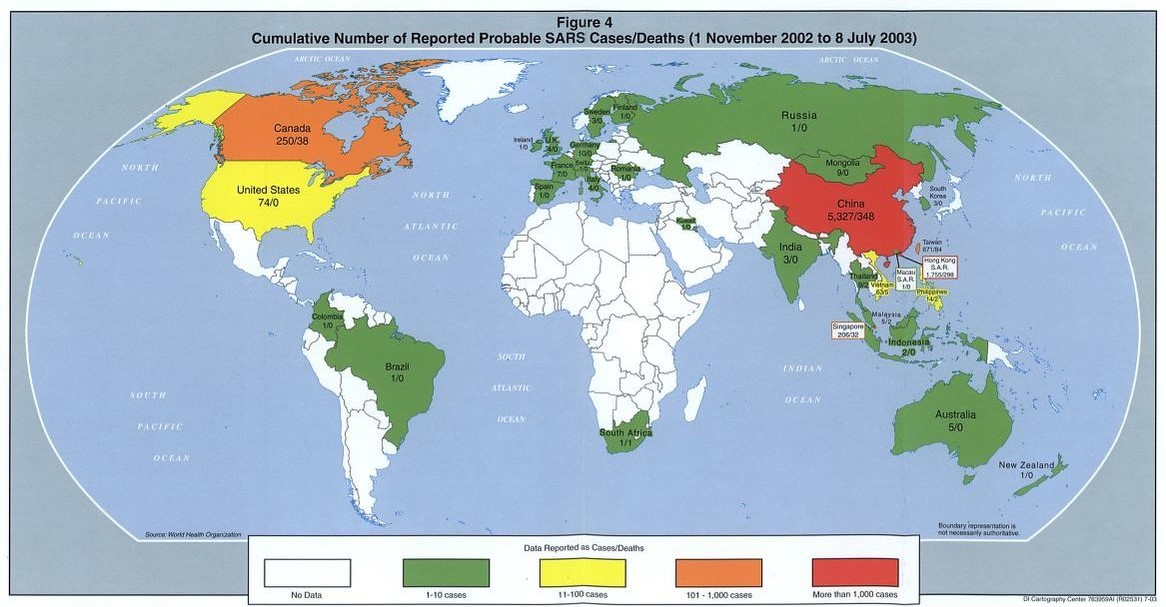 Map showing the number of probable SARS cases/deaths from November 2002- July 2003.
While these numbers are miniscule in comparison to the COVID-19 pandemic, the mysterious nature of SARS in 2003 brought with it a sense of shock—both to the public and to public health officials. On May 5, TIME Magazine released a cover story, "The Truth about SARS," which further excited popular concerns about the serious threat of the pandemic, even though only 40 cases and no deaths were yet reported in the United States.
In a stark warning, the article suggested that "if Americans think that they have dodged the biological bullet, they had better think again . . . Americans should not count on their sophisticated health-care system to protect them. China may be relatively backward, but Hong Kong, with a modern medical system, has experienced about as many deaths as have been reported in the rest of China put together. And only a few hours' drive from Buffalo, N.Y., or Detroit, just across the Canadian border, a Western city [Toronto] that thought it had done just about everything possible to contain its outbreak keeps losing ground."
The essay further warned of the severe economic toll that the pandemic would have, especially in East Asia, in losses in tourism and retail business (estimated to be nearly $30 billion dollars).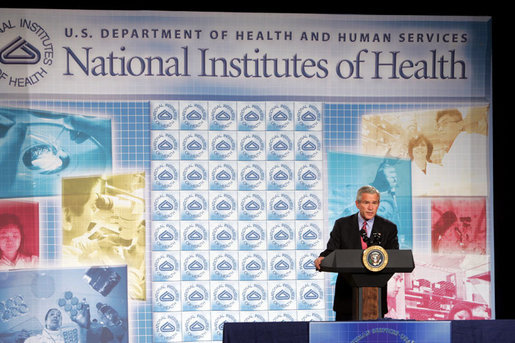 President George W. Bush outlining the National Strategy for Pandemic Influenza Preparedness and Response in 2005.
The shock of a new disease spreading into a global pandemic had a different impact on public health officials: it inspired rapid global cooperation in medical research and coordination of public health efforts.
Dr. Carlo Urbani, a 46-year-old Italian doctor who was among the first to treat SARS patients at the French Hospital of Hanoi and who first identified the disease for the WHO, died of the disease on March 29. Though his death was tragic, Dr. Urbani's legacy is important in that his rapid response saved many lives.
By March 12, the WHO issued a global alert regarding a severe form of pneumonia spreading out from China, Vietnam, and Hong Kong. On March 15, the CDC issued its first "Health Alert" for travelers coming from the region into the United States.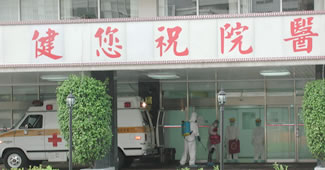 The Taipei Municipial Hospital during the 2003 SARS pandemic.
Soon thereafter, laboratories around the world began sharing information in real time as they began hunting for the pathogen responsible for this new strain of infections. They began gene sequencing and searching for a therapeutic. The gene sequence was published on April 14.
For the doctors working directly with patients—those on the front lines of the pandemic and disproportionately at risk of contracting SARS and passing it on to those outside hospitals—special precautions were instituted to prevent infection. Hospitals set up isolation wards, with a capacity to contain air, and with barrier protection for hospital personnel: double gowns, facemasks, goggles, gloves, hand disinfection, and change of shoes.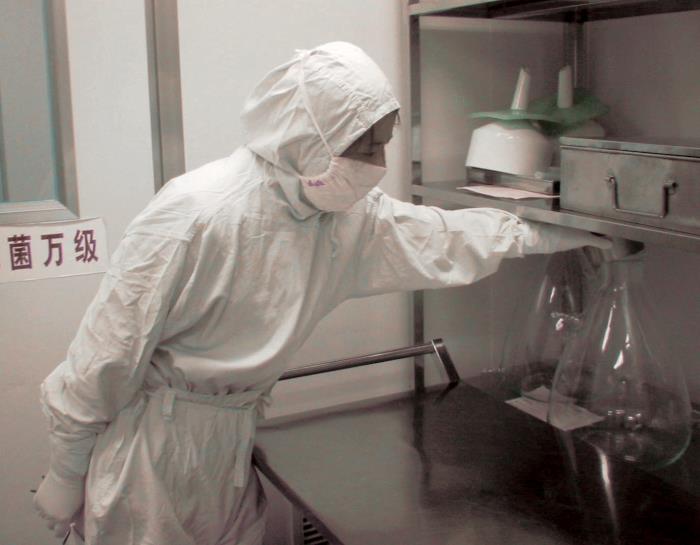 A Chinese laboratory technician conducting tests on SARS.
In treating patients, most efforts to contain the SARS pandemic used two tried-and-true public health tools—quarantine and contact tracing—both of which we are revisiting amid the COVID-19 pandemic. To prevent the global spread of SARS, some airports began to quarantine people who arrived. They took their temperatures, examined them for symptoms, and gave them advisory cards with information on what to do if they fell ill.
By mid-May, the SARS pandemic began to decline, largely through successful containment efforts. By June 18, the hundredth day of the pandemic, the number of global cases was down to a handful and on July 5 the WHO declared the pandemic fully contained.
The comparatively slow spread of SARS made high-speed contact tracing effective for containment. A vaccine was not necessary to end the SARS pandemic because the combination of global coordination of research and public-health policies of quarantine and contact tracing was sufficient to contain the virus. However, had SARS been more infectious or incubated more rapidly, such containment methods would not have been as swiftly successful.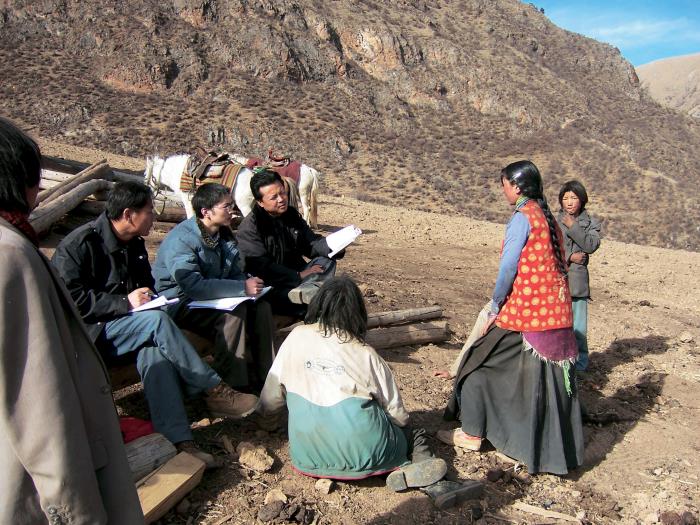 A team of Chinese Field Training Program students conducting research on how a SARS outbreak would effect rural villages (2003).
This is a hard lesson we are now facing as we seek to respond to another coronavirus pandemic. In 2020, we are again implementing isolation and contact tracing as the number of global cases continues to rise into the millions.
The impact of coronavirus is far greater than the SARS pandemic—but SARS taught us an important early lesson in how to respond to a coronavirus pandemic. Contact tracing on this scale will be an enormous undertaking, but it must be done as we wait for a vaccine to provide protection from COVID-19.
---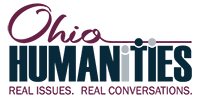 This content is made possible, in part, by Ohio Humanities, a state affiliate of the National Endowment for the Humanities. Any views, findings, conclusions or recommendations expressed in this content do not necessarily represent those of the National Endowment for the Humanities.